Mesquite Distracted Driving Accident Attorney
Despite campaigns across the United States targeting the dangers of distracted driving, many people continue to access their phones behind the wheel. One driving analytics company conducted a study of over 3 million drivers and discovered that drivers accessed their phones in 88% of studied trips. According to data from the Texas Department of Transportation, distracted driving contributed to over 7,000 crashes and 16 deaths in Dallas County during 2016.
Distractions prevent drivers from recognizing and reacting to situations on the roadways in a reasonable manner. Accessing a cell phone, eating, rummaging through a purse, and reading can all contribute to serious and deadly distracted-driving accidents.
Fielding Law helps injury victims hold distracted drivers accountable for their recklessness. We also help families of victims who lost their life in a distracted driving accident to pursue the correct lawsuit, that includes help from a wrongful death attorney in Mesquite who has a lot of experience in these type of accidents. We pursue cases to raise awareness about the dangers of distracted driving and to protect our clients' rights to recovery. If you suffered an injury in a preventable distracted driving accident, schedule a free case evaluation with our Mesquite car accident attorneys today.
What Is Distracted Driving?
Auto accidents are one of the leading causes of death in the United States. Many accidents are the result of drivers distracted behind the wheel. Every day, millions of drivers put themselves at risk by texting, talking on their cell phones, or any number of activities that divert attention away from driving safely. Not only is distracted driving dangerous, but it might also be illegal and could carry significant consequences during accidents.
Statistics for Distracted Driving
Proving a driver is distracted at the time of an accident can be challenging, particularly in the case of fatal accidents. As such, incidents of distracted-driver linked auto accidents might suffer from underreporting. The National Highway Traffic Safety Administration, however, reports that in 2016 alone, 3,450 drivers, passengers, and pedestrians died because of drivers who were not paying attention. There were also a further 391,000 injuries because of distracted driver crashes.
Compare these numbers to a national total of 37,461 fatalities on the road. Distracted driver cases represent roughly 10% of fatalities on the road. These national numbers, however, include situations such as unbelted deaths, pedestrian fatalities and motorcyclist accidents, all of which can involve distracted drivers as well.
Distraction-related deaths decreased in 2016 by 2.2%, most likely because of laws passed to discourage drivers using cell phones on the road. Driving while distracted is as much a choice as drunk or aggressive driving. The only way to reduce these numbers is for every driver to make the conscious choice to drive safely, and free from distraction.
How to Be Mindful Behind the Wheel
Emotions are a major source of distraction and stress for motorists. Finding somewhere to stop to rest and recuperate, however, is not always easy or possible. One way to manage emotions while driving is to practice mindfulness.
Mindfulness is a tool used by psychologists to manage negative thoughts and emotions, and to live in the present moment. Good practice to stay mindful involves focusing on what you are doing, feeling your breath and an awareness of your body at any one moment.
Practicing mindfulness on the road does not mean meditation – which is dangerous at the wheel – but instead acknowledging your current situation, and making the commitment to be mindful for your entire commute. Notice the feeling of being in the driver's seat, how your hands feel on the wheel and keeping your eyes focused forward. Existing in the present moment allows you to place your stress on the backburner, and prioritize your commute and drive rather than your feelings. 
Protect Yourself with Best Practices
Being safe on the road requires mindfulness of your actions and behaviors. The most surefire way to avoid an accident is to decide, early on, not to cause one. There are many factors outside of any driver's control, but practicing safe driving principles can avoid many of the worst tragedies that occur daily.
Drivers today must contend with hundreds and thousands of fellow motorists driving while texting, making phone calls, or reading emails. Avoid being part of the problem and keep your phone locked and set aside for your entire commute. Sending a text takes about five seconds, and that is five seconds where your eyes are off the road. That is all the time it takes for an accident to happen.
Many drivers use their phones for GPS and navigation. This is a great tool for time saving and convenience, but mapping out a drive while already on the road is another source of distraction. Before you take your car out of park, have your destination set and mapped accurately. Many car accessories on the market make it easy to hold your phone or GPS device on the dashboard. Turn your phone's volume up loud enough to hear your directions so you do not have to take your eyes off the road.
Distracted Driving Laws in Mesquite
In September 2017, Texas enacted a statewide ban on texting, using social media, or using web browsers while driving. Drivers may still access mobile GPS systems and music applications, but they cannot engage in other activities. While many cities have passed their own texting bans over the years, the new law represents the first formal texting ban in Mesquite.
Before now, officers could target distracted drivers for engaging in traffic violations associated with distracted driving. Today, they can target drivers specifically for engaging on their handheld devices in an unapproved manner.
How to Prove A Driver Was Distracted
You may know a driver was distracted before he or she caused your accident, but proving distraction is another matter. Plaintiffs need a preponderance of evidence to prove distraction in a civil battle. Some of the ways our firm proves distraction include:
Securing an admission

Some drivers don't think before they speak. They may reveal they were distracted when they talk to law enforcement officers, others involved in the accident, or insurers. A first-person admission is all we need to prove distraction, but drivers rarely admit to such careless driving behaviors.

Using phone logs

If necessary, we can subpoena court-admissible phone records to prove a driver was texting or engaging in other activities prior to or during an accident.

Locating video recordings

 Dash cams and traffic cameras can sometimes reveal the actions of an at-fault driver during an accident. A driver can't contradict video evidence of his or her distractions.

Collecting witness statements

If witnesses see a driver engaging in a distracted activity, they can provide compelling evidence to back up the claim.

Officer testimony

Occasionally, an officer may hear or see a driver engaging in a distracted driving activity. While the courts consider police reports hearsay, a police officer's testimony can help prove distraction.
While proving distraction can be difficult, it is not impossible. Our firm has access to a vast network of resources that allow us to recreate accidents, secure evidence, and prove distractions in distracted-driving claims. We build every case as if we will go to trial to fully protect our clients from defense strategies.
Distracted driving accident statistics in Texas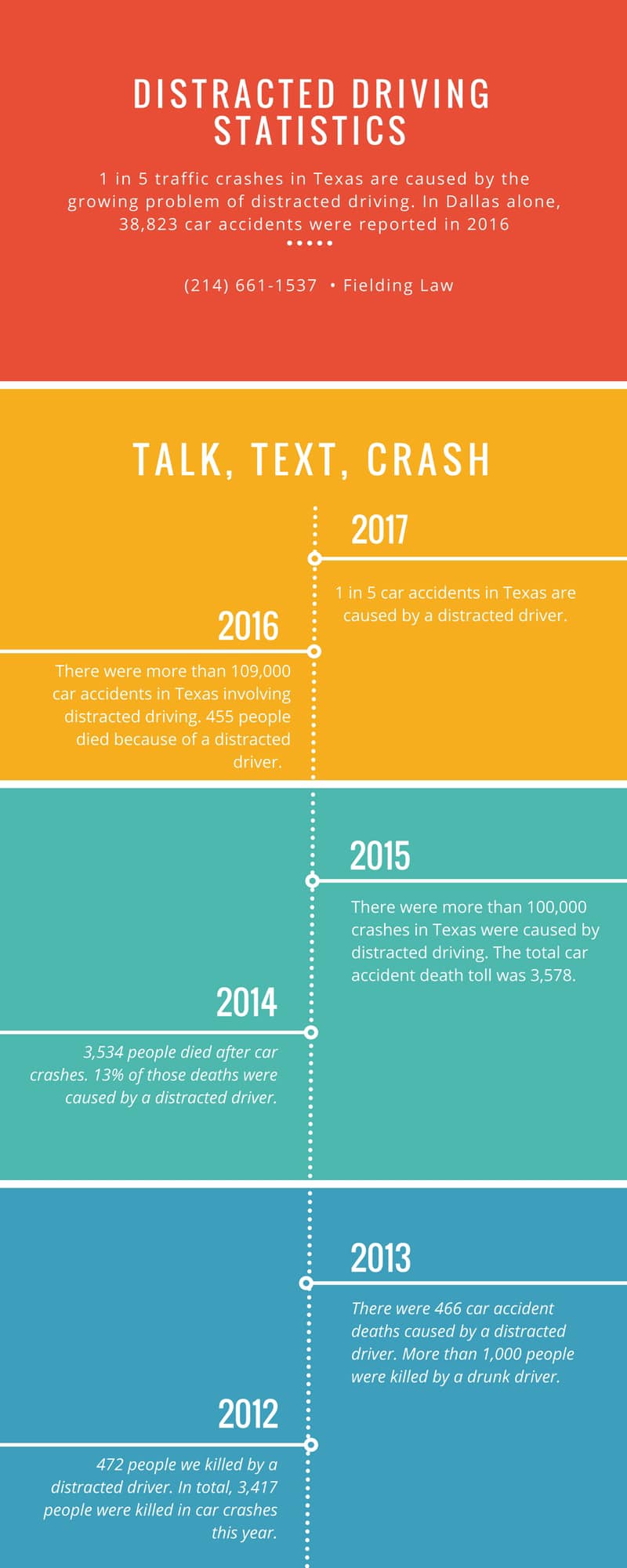 Drivers who text, eat, drink, chat, or perform other tasks behind the wheel put everyone else on the roadway at risk. Distracted driving is a highly dangerous practice that makes it impossible for a driver to fully focus on the road. These drivers are likely to collide with stopped vehicles, run traffic lights, make unsafe lane changes, and run into pedestrians in crosswalks. Experts say texting and driving could be as dangerous as drinking and driving, raising the chances of car accidents.
Every type of auto accident can potentially cause major personal injuries, wrongful death, and thousands of dollars in property damage. After any type of car crash in Mesquite, it is worthwhile to speak to an accident lawyer. If someone else's negligence caused or contributed to your collision, that party and possibly others may be responsible for reimbursing your damages. A personal injury claim could be the solution to your accident-related losses and expenses.
Distracted driving is in many ways as dangerous as driving under the influence of alcohol or drugs. Since the advent of cell phones, texting while driving has been a major point of discussion across the country. Many people across all age groups and demographics have caused serious and even fatal accidents due to distracted driving, and texting while driving is one of the most common distractions leading to such tragedies. In 2015 alone, nearly 3,500 people in the United States died as a result of texting while driving.
Mesquite Car Accident attorneys At Fielding Law, we want to help injured victims recover compensation for their medical expenses, pain and suffering, lost wages, and property damage. When people suffer such losses due to reckless behavior, such as driving while distracted, it's crucial to hold the responsible parties accountable for the damage they cause.
Building a Case Against a Distracted Driver
After an accident with a texting driver, the victim's first priority should be seeking medical attention. It's important to seek treatment as soon as possible, even if the victim believes his or her injuries are not severe. Any delay could not only jeopardize the victim's health, but also his or her chances of success in a future personal injury claim against the at-fault driver. If the jury sees that the plaintiff took an unreasonable time seeking medical care, they will likely assume his or her injuries were not as severe as claimed.
If the driver was a truck driver the case might look different since they were involved in the crash while working. If you were involved in an accident of this type, contact a truck accident lawyer in Mesquite for a case evaluation.
Once the victim has obtained a medical report of his or her injuries, the next step should be securing a police report from the accident. Texas law states drivers must contact the police to report any accident that causes an injury or death, or property damage exceeding $1,000. If there is any room for doubt, it's always best to contact the police to be safe. The police report will include statements from the drivers involved in the accident, as well as any available witnesses.
Reach Out to Your Mesquite Distracted-Driving Attorney
When you search for an attorney to represent your distracted-driving case in Mesquite, consider the firm's reputation and its commitment to clients. Fielding Law has a reputation for success that extends beyond state lines. We provide each of our clients with one-on-one legal guidance, and we never take shortcuts. Our attorneys will pursue full claim compensation, and we won't accept payment unless we recover on your behalf. Call our Mesquite Personal Injury Attorneys today to find out why more Mesquite residents partner with Fielding Law after distracted-driving accidents.