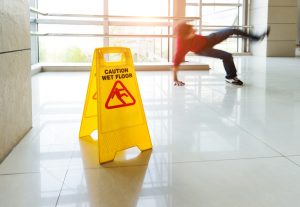 Slip and fall accidents are some of the most common causes of household injuries in the United States. A slip and fall is responsible for more than eight million emergency room visits in the country each year, and are also the leading cause of missed days from work. Slip and fall accidents cost the American economy billions in medical expenses every year and also lead to serious injuries including Mesquite broken bones, internal organ damage, head injuries, and spinal injuries.
Anyone who has suffered injuries from a slip and fall accident needs to know their options for legal recourse. At law firm in Mesquite tx, Fielding Law, our Mesquite slip and fall accident attorneys help people injured in slip and fall accidents secure compensation for their medical expenses, pain and suffering, lost income, and other damages. It's important for everyone in the Mesquite tx area to know what to expect from a slip and fall lawsuit. Call us or visit us at law firm Fielding Law in Mesquite tx for a free consultation with a personal injury lawyer.
How Can Our Slip and Fall Attorneys Help?
Lawsuits resulting from a slip and fall accident are personal injury claims rooted in premises liability law. While plaintiffs in personal injury lawsuits must prove their defendant's negligence, a plaintiff in a slip and fall case typically has to prove that a property owner failed to take adequate care of the property. A property owner can also face liability for failing to warn a lawful visitor to the property about a known hazard that may cause a slip and fall accident.
It is important to make the distinction between lawful visitors to a property and trespassers in Mesquite premises liability cases. Property owners do not owe a duty of care to trespassers on their property, except in the case of interloping children. Children do not possess the same awareness or level of personal responsibility as adults. A property owner must take measures to prevent injuries to trespassing children if the possibility exists.
Injuries and Damages in Slip and Fall Cases
Plaintiffs in slip and fall legal cases can secure several types of compensation in their claim, including:
Medical expenses. A plaintiff can sue for his or her hospital bills, rehabilitation costs, and any other necessary treatments following a slip and fall accident.
Pain and suffering. Injuries such as broken bones are very physically painful, while a traumatic brain injury can leave a victim functionally impaired, a slip and fall accident can also result in wrongful death. The judge will assess the facts of the case, and listen to testimony from medical experts, to determine a fair amount of compensation for the plaintiff's pain and suffering.
Lost income. A slip and fall accident may cause the victim to miss some time from work. Some injuries may prevent a victim from returning to work at all. The plaintiff can sue for the wages lost as a result of the slip and fall.
Property damage. If a slip and fall damages or destroys personal belongings, such as an expensive wristwatch or cell phone, the plaintiff can sue for the costs of repairing or replacing those items.
Punitive damages. Defendants found grossly negligent may face punitive damages. These damages serve to dissuade others from engaging in similar behavior in the future.
A slip and fall case may sound straightforward, but these scenarios can quickly evolve into complex legal battles. Finding the right attorney is essential to winning a slip and fall case. At law firm Fielding Law, our Mesquite personal injury lawyers provide our clients with direct access to a slip and fall lawyer mesquite for close, one-on-one legal consultation. Our aim is to maximize our client's recovery in every case. Call us and reach out to our team to schedule a free case evaluation and we will let you know how we can help.
What Clients Say About Us:
"Michael and Mitchell are both excellent attorneys who know the ins and outs of personal injury law. And they are dedicated to their clients. They listen, answer questions and take the extra steps necessary to maximize the value of your claim. I would recommend Fielding Law to anyone." -Matt Martine