How Empty Roads Can Actually Cause More Car Accidents
You are probably reading this newsletter in your home because, like most Americans, you're following the pandemic quarantine rules in effect at this time. Even though we are not working our normal hours in the office, the entire team at Fielding Law is staying on top of the issues that impact our clients, neighbors, and friends.
Less Traffic is a Good Thing, Right?
During the time we are sheltering at home, you may have noticed fewer vehicles on your neighborhood streets and more people walking, running, or bicycling for exercise. While the reduced pollution levels in most urban areas is great, there are some downsides which you may not have considered.
Surprisingly, our roadways, especially bigger highways are not necessarily safer with the reduction of traffic. Instead, they have become more dangerous than usual because some drivers are taking advantage of the nearly empty streets to ignore traffic laws, especially speed limits.
Expect Fewer But More Severe Accidents
Police departments across the nation are reporting more unsafe driving incidents and almost double the regular number of speeding tickets issued in the past few weeks. Also, although the total number of vehicle-involved accidents is down as a result of fewer people driving, the severity of accidents has increased. With greater speed and more distracted driving, collisions have become more serious both in terms of physical impact and the level of injuries to those involved.
According to a recent study published by the Governor's Highway Safety Association, the number of cars violating the speed limit has jumped during the past few weeks in many states. For example, police in Utah have reported a sudden spike in vehicles exceeding 100 miles per hour on their highways.
Sadly, fatality rates are also rising in several states. Pedestrians now account for 17% of all vehicle-related deaths. As a result, some local governments have modified traffic lights and pedestrian crosswalk signals in an attempt to protect those on foot. Of course, drivers are not familiar with these new patterns. This confusion, coupled with excess speed means we can expect even more crashes.
Our Advice to You
As the stay-at-home restrictions are lifted and more people are reintegrating into society, we hope you remember that drivers may not revert back to legal driving habits and could be distracted by modified traffic signals. We recommend you stay extra vigilant whether driving, walking or cycling.
Accidents can happen anytime, in any place, as a result of someone else's negligent actions. Following traffic laws and being aware of your circumstances helps protect you. But if you are a victim of an accident, you have the right to fair compensation from the person at fault.
While the team here at Fielding Law can't help you stay virus-free, we are ready, willing, and able to assist if you or someone you love has been injured as a result of a driver's negligence or violation of the driving laws.
During these difficult times we remain available to meet with you virtually to make sure your rights are protected. Call us today at 877-880-4090 or use our handy Contact Form to set up a free consultation.
If you have questions about any accident that involves negligence or are simply curious about your rights, speak to our attorneys about your case. Even though some claims will not require representation or can be settled out of court, we can provide you with peace of mind and ensure that you are fully informed of your options moving forward.
---
Click here to schedule a FREE case evaluation!
---
Featured Content
---
---
Testimonial
"Having practiced law on Wall Street, I know a good lawyer when I see one. Mitchell Fielding is a stand out among his peers with an advanced grasp of how to use the law to the benefit of his clients. Equally as important, Mr. Fielding never cuts corners and has earned my trust implicitly. If you're looking for the right lawyer to represent you, look no further: Mitchell is your guy."
-Alan Lewis
---
Case Result – Commercial Bus Accident
Our client was severely injured when a bus employee failed to operate the bus at a safe speed, did not apply brakes in a timely manner and ultimately crashed into a safety pole and building. Our client underwent extensive surgeries. The insurance company did not offer anything before filing a lawsuit. After retaining multiple experts to support our damage claim, filing a lawsuit and aggressively fighting for our client's interests, our firm successfully settled our client's case at mediation.
$1.6M
---
Employee Spotlight: Mitchell Fielding – Partner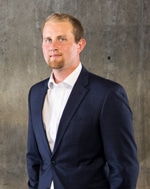 Mitchell Fielding graduated in the top of his class from the J. Reuben Clark Law School at Brigham Young University, cum laude. During law school, he was part of the Moot Court team and clerked for the BYU Office of the General Counsel. Additionally, he had the great opportunity of externing for Justice Thomas Lee with the Utah Supreme Court and Judge Clark Waddoups with the Federal District Court. Mitchell obtained his undergraduate degree in Business Management, Finance Emphasis. He grew up on a farm, where, from a young age, Mitchell was taught how to work hard and do what it takes to accomplish any tasks before him. Practicing law was and always has been his passion.
Prior to starting Fielding Law with his brother Michael, Mitchell worked with other successful law firms, including in personal injury. In short, Mitchell has obtained the knowledge and expertise necessary to handle all your personal injury and auto accident needs. He is well equipped to negotiate with all insurance companies, and when required, he can be your effective trial advocate.
Mitchell is known for his hard work ethic, friendly personality and dedication to the law. In his free time, Mitchell enjoys spending time with his family, golfing, traveling and boating.
---
About Fielding Law
At Fielding Law, we focus exclusively on auto accident and personal injury cases. We take pride in our particular area of expertise and our team's ability to perform well. We dedicate the time needed to become very familiar with each and every case. Our firm knows how to effectively and aggressively deal with insurance companies of all types.
Although most cases settle prior to trial, if required or beneficial, we at Fielding Law also have the skills necessary to advocate on behalf of our clients at trial. Whether you were in a car accident or were personally injured, our injury attorneys are the legal experts you deserve to have on your side.