Brain Injury Attorney
A traumatic brain injury (TBI) can be a distressing, life-altering event and it can happen in the blink of an eye. TBI's often result in what are known as "invisible disabilities" leaving the victim suffering symptoms that others can't see for years to come. 
In addition to the crippling physical damages, finances can become strained as well. Between medical bills and lost wages, debt can quickly pile up leaving the victim and their family wondering if life will ever be back to normal.
In some tragic cases, traumatic brain injury can even result in death. 
If you or a loved one are suffering the results of a brain injury, or if you've lost a loved one in death due to a TBI, that may result in a wrongful death claim, it can be difficult to know how to proceed. A Fielding Law brain injury attorney can help you to navigate the complex waters of your legal rights and pursue fair compensation for your losses.
How Can A Brain Injury Attorney Help?
Brain injuries are complex and the continuing treatment that is often needed can be financially draining. A brain injury attorney can help get you back on your feet financially so that you can focus on healing to the extent possible. 
Personal injury law is a complex field and people tend to underestimate their legal rights following an accident. A brain injury lawyer at Fielding Law can ensure that your rights are respected and that you aren't taken advantage of by insurance companies or by the attorneys of the at-fault party. Here are some of the ways an experienced brain injury attorney from Fielding Law can assist you:
Negotiating on your behalf with the insurance company
Gathering evidence, witness testimony, and police reports to prove fault in your accident
Helping you to fill out complex paperwork correctly
Calculating the true value of your claim including future losses, and
Litigating in court on your behalf, if necessary
Imagine for just a moment, that your case requires going to trial. A trial will most likely involve the testimony of experts. Experts who will be called upon to discuss liability and damages. Testimonies could proceed for days. Medical doctors could be asked to speak about how you have been affected by your brain injury, or perhaps the medical treatment that you will need for years to come. Imagine an economist discussing the earnings you would have made had you not experienced this accident. 
Your attorney will ensure that the findings of these experts are communicated to the judge and jury clearly, accurately and in a way that is easy to understand, thus ensuring that their decision can be fair and just. 
The assistance of an experienced and knowledgeable attorney is vital to the success of your case.
What To Do After a Brain Injury
The moments following an accident can be terrifying. Emotions may be running high and you may be in a great deal of pain. After ensuring that everyone is out of harm's way, the following steps will help keep you safe and help you begin building a case that will allow you to put your life back together. 
Seek Medical Attention Immediately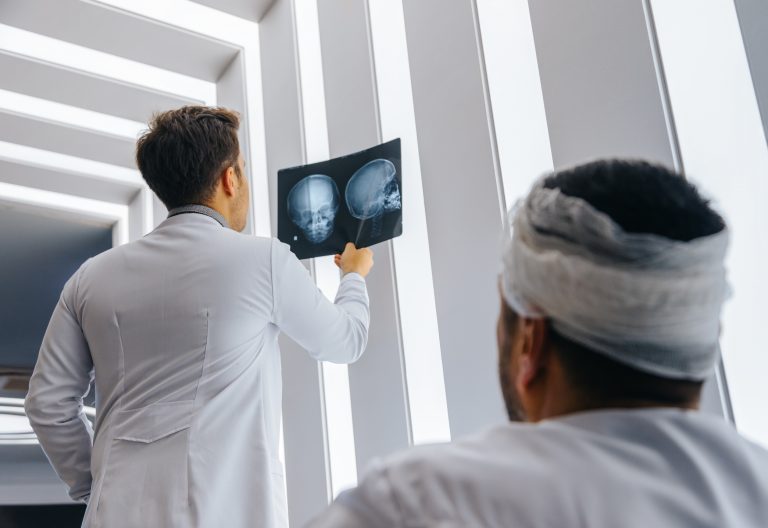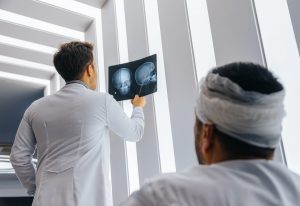 Even if you think you feel fine, it's important to seek medical attention as soon as possible after your accident. Sometimes, symptoms are slow to manifest and the full range of damage may not be noticed for days or even weeks after your injury. Even a so-called "mild TBI" like a mild concussion is a serious and potentially dangerous injury and should be treated as such. In addition to ensuring that your injuries receive the proper attention, going to the hospital soon after an accident also provides medical documentation which constitutes evidence of the injury and will be an invaluable part of your case. 
Following an accident, pay attention to any of the following symptoms of TBI which may manifest immediately or in the weeks following the incident.
Visible Blood. Visible bleeding from the head is perhaps the most obvious symptom, but in some cases, it might be ignored. Do not ignore it. 

Confusion– If a person who has suffered a head injury is having trouble remembering things like his name or where he is, head trauma should be suspected. This is a serious symptom that requires medical attention.

Dizziness– It's common to minimize or ignore this symptom, but it can be a telltale sign of TBI. If someone is feeling dizzy following a blow to the head, have them sit down or lie down before falling and sustaining an even worse injury, and call an ambulance immediately.

Seeing Double– Double vision is another serious symptom of head injury and often accompanies dizziness or lightheadedness. Encourage anyone who is seeing double to sit down. Seek medical attention right away.

Headache– Don't fall into the trap of saying, "it's just a headache." This is a symptom which, if it follows head trauma, could be indicative of a dangerous situation developing. In some cases, headaches related to brain injury may begin days or weeks after the injury.
Call The Police And Gather Evidence
Following any sort of accident that results in injury, especially a car accident, it's important to call the police as soon as possible. The officer will come to the accident scene and file an accident report which may state who was at fault. Get a copy of the police report as well as the responding officer's name and badge number. The accident report is a vital piece of evidence when building your case. 
If possible, it's also helpful to collect the names and contact information of the individuals involved as well as any witnesses to the accident. This includes the passengers in each vehicle.
If possible, document the scene of the accident by taking photos, including different angles. Make an effort to capture the damage incurred on all vehicles as well as images of any visible bodily injury. For any other type of accident, follow a similar pattern as the example mentioned above to collect relevant information and to document what has occurred. Such information will prove considerably valuable to your case.
Do Not Talk To Insurance Representatives Without A Lawyer Present
You may receive a phone call from an insurance rep of the at-fault party's insurance company, or from your own. While this individual may seem genuinely concerned for your well-being, their job is called "loss control". They want you to settle quickly and for as little as possible. Often for far below the value of your damages. Never speak to an insurance rep without first consulting with an attorney. Your well-meaning words may inadvertently jeopardize your case. Above all, never admit fault and never say "I'm fine," when asked how you are feeling. 
Fielding Law Can Help You
If you or a loved one have suffered a brain injury following an accident, our seasoned and compassionate attorneys want to help you. Let us protect your rights, and ensure that you aren't taken advantage of by the other party or their insurance agency. You deserve full compensation for the complete extent of your injuries and losses. Don't settle for less.  
Contact the brain injury lawyers at Fielding Law for a free consultation. We will adamantly pursue your case and help you get the compensation you deserve.