Mesquite Playground Accident Attorney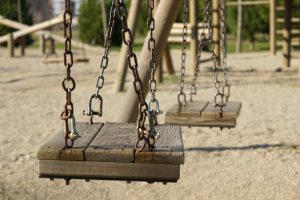 Mesquite Personal Injury attorneys at Fielding Law recognize that accidents can happen anywhere. Children trip, fall, and suffer injuries. Many accidents don't constitute personal injuries – they would have happened regardless of the environment. However, when accidents happen because of playground hazards, construction defects, improper maintenance, or other factors, we represent children and their families in Mesquite premises liability claims.
Children love playgrounds. They serve as the perfect backdrop for socialization, physical activity, and imaginative play. As fun as playgrounds seem, they can also pose serious risks. Hundreds of thousands of children go to the emergency room each year in the US because of playground-related injuries, and thousands suffer traumatic brain injuries from their accidents.
In Mesquite, children use playgrounds at school, in local parks, and at child care facilities. Reverchon, Northcrest, Coffee, and Glencoe parks are some of the most popular public playgrounds in the area. The facilities feature slides, small climbing structures, tall walkways, and more.
Types of Preventable Playground Accidents
Preventable accidents arise because an organization or person failed to act reasonably given a certain set of conditions. Some common types of preventable playground accidents include:
Improper warnings

 Playground operators should provide adequate warnings about age recommendations for structures, local wildlife concerns, and known hazards on the property to reduce the risk of an injury.

Poor construction

 When a parent releases a child into the playground area, they expect the structure to hold up under normal, intended use. Loose bolts, weak chains on swings, and other construction weaknesses can lead to structural collapses and injuries.

Inadequate maintenance

Splintered wood, rusty bars, trash, and weakening plastic can increase the likelihood of a serious incident. Tetanus, deep lacerations, broken bones, and head injuries are all possible outcomes related to inadequate maintenance.
Playground operators are not responsible for maintaining a 100% worry-free playground environment, but they are responsible for taking reasonable measures to ensure the safety of the children who use the facilities. If an accident would not have happened on any other playground and caused your child to suffer a serious injury, you have the right to file a claim against the government agency, equipment manufacturer, or private organization responsible for the incident.
What to Do After a Playground Accident
Serious playground accidents happen quickly and can leave parents and caretakers feeling panicked and unsure about next steps. To protect your right to take legal action, take the following steps:
Take pictures & videos

As soon as possible following the incident, go to the location of the accident or ask a close friend to go and record the scene. Take pictures and video of any hazards that may have contributed to your child's injury.

Record witness information

Write down the contact information of anyone who witnessed the accident.

Avoid social media

 You may want to update friends and family about your child's condition using social media. Consider private messaging your network until you speak with a personal injury attorney about what you should and should not post during an open claim.
Fielding Law understands the heartbreaking nature of playground accidents and injuries. We are here to provide complete legal support to injured children and their parents/guardians. Our local and accessible attorneys will stand by you at every step. Learn more about your legal options when you call our Mesquite office to schedule a free playground accident case evaluation.