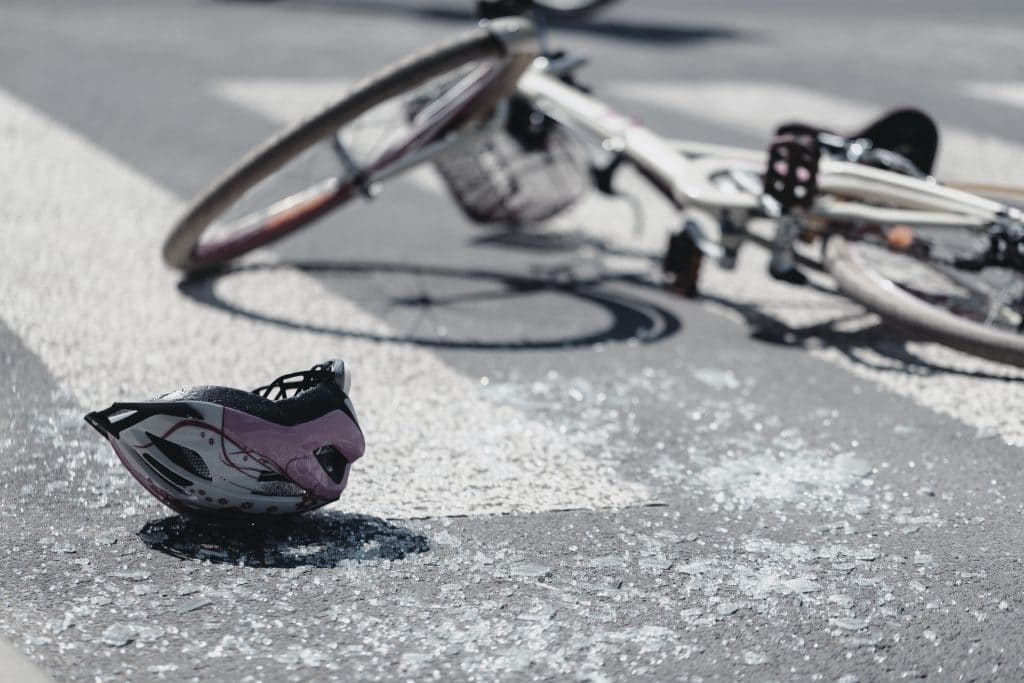 Biking is good for the earth, your wallet, and your health. The advantages of bicycling make it a popular way to get around Mesquite. For some, however, the risks may outweigh the benefits. Mesquite is a dangerous city for bicyclists, with congested streets, awkward intersections, and impatient drivers. Every year, hundreds of bicyclists become victims in collisions with motor vehicles. If you or someone you love has been in a recent bicycle accident, the attorneys at Fielding Law want to help you protect your rights.
How Fielding Law Attorneys Can Help:
Available 24 hours a day, 7 days a week
Big firm power, small firm attention
Free Consultations: Call us today & schedule your appointment
Testimonials: Check out what our past clients are saying about our work
Case Results: We have won millions in cases involving injury victims
Where You Struck by a Negligent Driver?
First, stay calm and do not get angry with the driver or other bicyclist. The other party could use things you say out of anger against you during an insurance settlement later. Do not admit fault or apologize. Be polite and check yourself for injuries. If you or someone else has injuries or there is property damage of at least $1,000, call the police and report the collision. When in doubt, call 911.
Reporting the collision is always a good idea, and it will result in an official record of the incident. Never trust a party to pay for your damages "under the table" without involvement from police or insurance companies. This will likely lead to the person giving you false information and disappearing or paying much less than you could receive through an official claim. Stay on the scene until police arrive and tell you to leave. Seek medical attention for any injuries right away. Keep copies of your medical bills and records.
Create a record of all documents relating to your bicycle accident. The more information you collect, the better. During this time, call your insurance company and report what happened. If you were in a hit-and-run, your insurer may be your avenue to seek compensation. Once you're ready, contact Fielding Law. Our Mesquite bicycle accident attorneys will meet with you during a free consultation and help you decide on the best course of action moving forward. Medical bills could pile up and if you believe someone else's negligence caused your injuries, you could be entitled to compensation, let our Mesquite car accident lawyers help.
Bike Accident Statistics in Mesquite
Part of the solution for bicycle accidents is spreading awareness of the problem. The more people understand about bike accidents, the more likely they are to prevent them. It's important to stay up to date with the most recent data and statistics about bicycle collisions around the nation, state, and the city of Mesquite. That way, you can take steps to protect yourself next time you bike around the city. Here are a few recent bicycle crash facts:
In 2015, 818 bicyclists died in traffic crashes around the United States. This was a 12.2% increase from 729 deaths in 2014. Another 45,000 bicyclists suffered injuries.
Children and adolescents are at the greatest risk of nonfatal bicycle injuries. Males are about six times more likely to die in bicycle crashes than females around the country. The majority of nationwide bike accidents occur in urban, non-intersection locations.
In 2014, bicyclists accounted for 2% of all national traffic deaths and 2% of all crash-related injuries.
There were 52 bicyclist fatalities in Texas in 2015. This represents a 2% increase from 2014.
From 2011 to 2015, there were 281 fatal bicycle or pedestrian crash locations around Dallas County. Tarrant County documented 160 fatal crash locations.
More than one in five (21%) of bicyclists killed in fatal collisions had blood alcohol concentration levels above the legal limit of 0.08%.
The numbers regarding bicycle accidents in Texas and around the country are frightening. They point to a great need to improve the safety of the roadways for vulnerable road users like bicyclists and pedestrians. In Dallas, the city has increased efforts toward making the streets safer for bikers since adopting the 2011 Dallas Bike Plan. Unfortunately, local cyclists still aren't safe, despite municipal efforts.
Snapshot of Mesquite Bikeways – How Is Mesquite Unfriendly for Bikers?
Dallas is not a particularly bicycle-friendly city. The trouble starts with the roadways. The city does not use a standard grid system for its streets. Instead, roads cross and intersect at strange and confusing junctions. Locals and tourists alike can find themselves flummoxed by Dallas's complex urban roadways. There is also a lack of marked bicycle lanes in downtown Dallas, yet according to Dallas City Code, Chapter 9, bicyclists may not ride on sidewalks within the central business district. These restrictions force bicyclists to ride in the roadway alongside other motor vehicles.
The second problem for Mesquite bikers lies with the people. Drivers are notoriously rude and impatient with bicyclists in the city, with episodes of road rage that can be highly dangerous for vulnerable bikers. Drivers may follow too closely to bicyclists, rush past them without giving enough space, or drive them off the road. Drivers may also ignore the rights of bikers, cutting them off at intersections and failing to yield the right-of-way. Negligent and distracted drivers may not see bikers, increasing the risk of preventable collisions.
Bicycling in the Dallas–Fort Worth area is risky, and most risks come from preventable human errors. Actions drivers and bikers take every day can make a world of difference in the safety of cyclists. Obeying roadway rules, following bicycle laws, and practicing common courtesy could save hundreds of locals from serious injuries and death every year. Between spreading awareness and citywide safety initiatives, perhaps the city will be a friendlier city for bicyclists someday.
Common Injuries in Bike Crashes
The nature of bicycle accidents lends itself to certain types of injuries. Whether bikers collide with objects, other bikers, or vehicles, they are prone to some injuries more than others. This is due to the exposure of the body to objects and impacts. While a bicyclist can sustain a variety of injuries in a collision, here are some of the most common we see at Fielding Law:
Head trauma

In Texas, there is no universal bicycle helmet law. This has increased the number of bikers on the road without helmets. A helmet does not guarantee prevention of a head or Mesquite brain injury, but it does reduce the risk by about 50%. With or without a helmet, a bicyclist can sustain a head or brain injury if the head strikes the vehicle or the ground in a collision.

Spinal cord injuries

The forces in a collision can injure a bicyclist's spinal cord, resulting in lifelong loss of movement and sensation in worst-case scenarios. Back and Mesquite neck injuries can result in chronic pain and loss of range of motion, especially if the victim needs surgery to fuse together vertebra.

Fractures

Breaks in the arms, legs, wrists, and elsewhere occur frequently in bicycle accidents. The easiest bones to break are the ulna, radius, and scaphoid. Breaking these bones can result in months of recovery time. Many bicyclists may break their wrists by trying to catch themselves as they fall off their bikes.

Musculoskeletal injuries

Injuries to the tendons, muscles, nerves, and discs can happen from blunt-force trauma in bicycle accidents. These injuries can be very painful and can cause long-lasting neurological damage. Temporary and permanent disabilities can arise from musculoskeletal injuries.
Regardless of your type or extent of injury after a bicycle accident, talk to the attorneys at Fielding Law. If you experienced physical pain, emotional suffering, medical bills, or lost wages from missed time at work because of your accident, you are likely eligible for recovery. These are compensable damages to the civil courts in Texas. We can help you seek just compensation from an insurance company or through a personal injury lawsuit in Mesquite.
Texas Bicycle Laws
As a bicyclist, it is your duty to know and obey relevant state and local bicycle laws. Understanding the law can protect you from accidents and allow you to stand up for your rights in the event of a collision. Knowing you're on the right side of the law can go a long way toward your confidence after a crash.
When in doubt, speak to an attorney about your rights and obligations in a specific situation. In the meantime, here are five Texas bike laws you should know:
Helmet laws

As mentioned above, Texas does not require you to wear a bicycle helmet. However, the city of Dallas passed a municipal helmet law that makes head protection use mandatory for cyclists under the age of 18. Fort Worth, Houston, and Austin have similar laws. Failure to obey local helmet laws can result in fines and potential liability (at least in part) for head injuries in a collision.

Biking under the influence

Technically, biking under the influence of alcohol is not illegal in Texas. The wording of the Texas Transportation Code does not specifically apply to bicycles. However, you may get into trouble for riding under the influence if your intoxication contributes to you causing a collision.

Treatment as a vehicle

Texas sees bicycles as vehicles according to law. That means bicyclists have all the same rights and responsibilities as other motorists in the state. Bicyclists must obey all roadway rules that apply to vehicles, except for special bicycle regulations and provisions that do not apply to bikes.

Equipment requirements

All bikes must have adequate brakes. To bike at night, the vehicle must have a white light on the front of the bicycle visible from at least 500 feet away, and a rear red light or reflector visible from 300 feet. Failure to have the proper equipment, resulting in an accident, could lead to bicyclist liability.

Safe operation

Bicyclists must use their vehicles as intended. They may not carry more people than its design intends, use vehicles to pull the bike, or carry anything that prevents the person from putting at least one hand on the bike's handlebars. The bicyclist is responsible for operating the bike safely and prudently at all times.
If you are partially at fault for your bicycle accident because you broke a bicycle law, don't panic. As long as the courts assign 50% or less of fault to you, you could still recover for your damages. Texas is a modified comparative negligence state, which allows the plaintiff to share fault for an accident and still receive partial compensation. Call a Mesquite injury attorney for advice.