Taylorsville, UT Scooter Accident Lawyer
Kick scooters can be a fast and fun way to get around. Once mainly used by freewheeling youngsters, they are now a fashionable way of commuting to work. The problem is that scooters can cause a whole world of pain if you get into a scooter accident.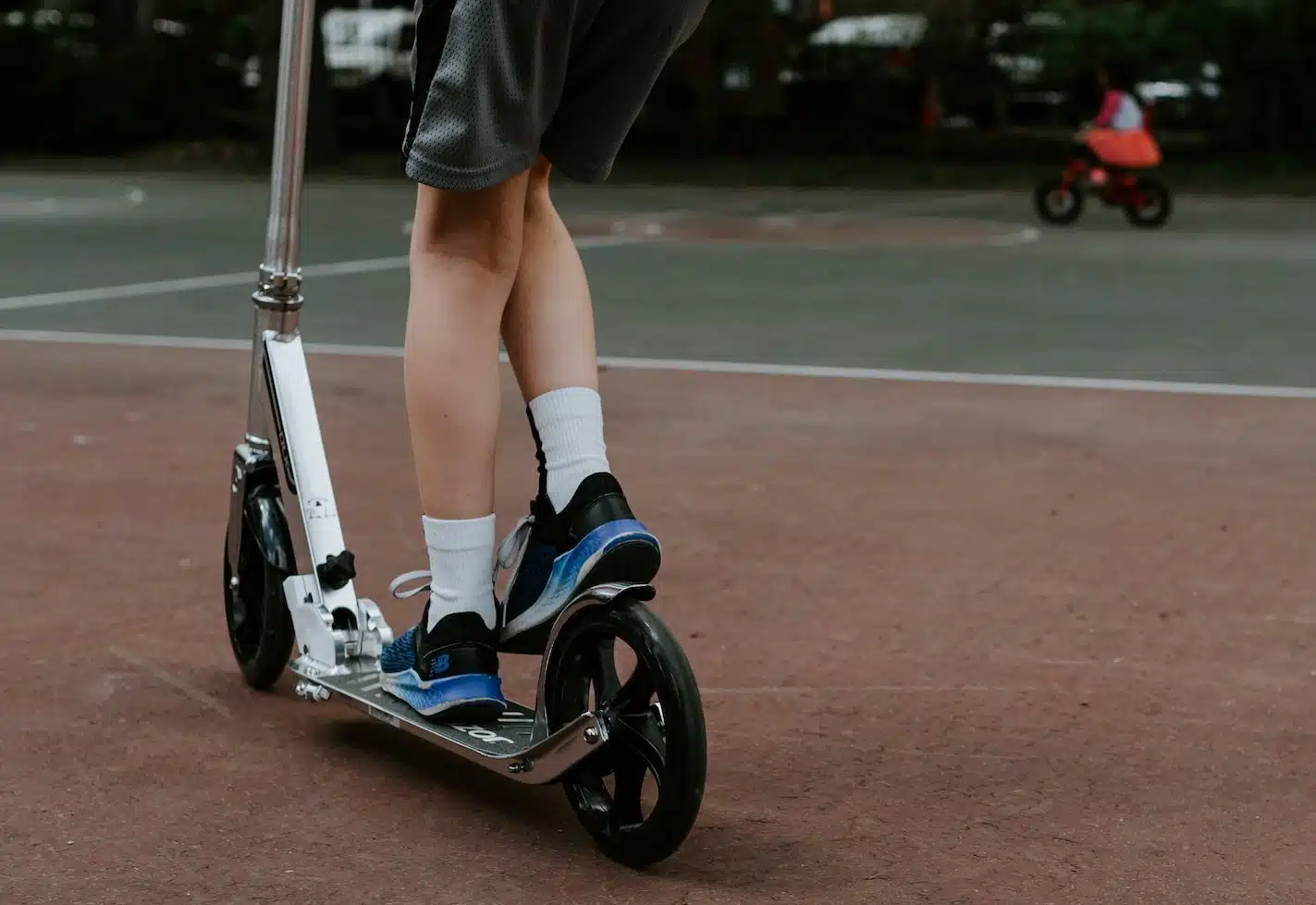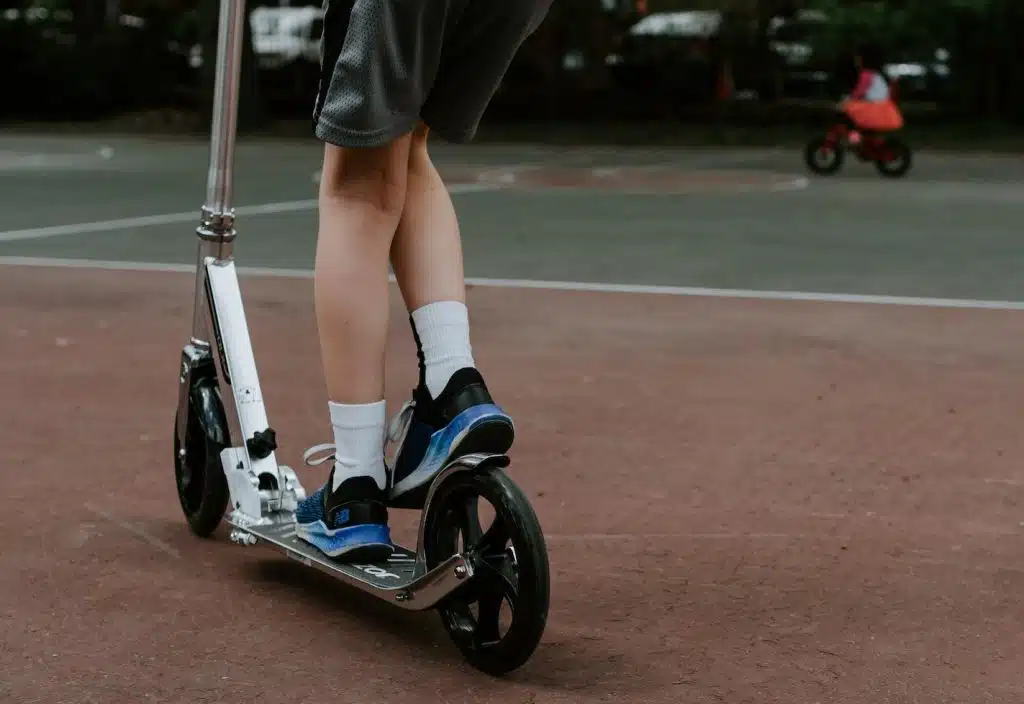 Scooters and pedestrians typically share the same sidewalks and outdoor walkways. You could be walking along, minding your own business, and a moment later, you are on the ground reeling from an impact with a wayward scooter and its rider.
Scooter riders are also vulnerable to hazards that can result in injuries. Although standard kick scooters – not the electric kind – only have an average speed of 8 to 10 miles per hour, accidents can still be catastrophic.
If you or a loved one has been the victim of a scooter accident, you need a Taylorsville, UT, kick scooter accident lawyer to fight for justice on your behalf. Call Fielding Law today at (877) 880-4090 or contact us online for a free case evaluation. An experienced scooter injury lawyer will assess your case and explain the legal avenues open to you.
Causes and Consequences of Scooter Accidents
The two most common causes of scooter accidents are falls from the scooter and collisions with pedestrians or stationary objects.
Fall accidents
Falls from scooters typically happen when the rider tries to navigate uneven terrain obstructions. This could include broken paving, loose debris on the pavement, or unexpected surface moisture or ice.
These accidents often result in cuts and bruises, with broken bones and concussions also common. However, collisions can be much more serious.
Collision accidents
Collision accidents can involve direct contact between the rider and one or more pedestrians. They can also happen when a rider swerves, for example, to avoid hitting a vehicle, a running infant, a fire hydrant, or another stationary object. The most serious injuries may occur when a negligent motorist hits a scooter rider.
These can result in:
Broken bones: Wrists, arms, and legs are particularly susceptible to fractures and breaks. If the collision involves an older person, hip fractures could occur, which can lead to serious consequences. Additionally, spinal injuries can cause long-term disabilities for people of any age.
Head injuries: If your head hits the ground or another hard object, you could sustain a traumatic brain injury (TBI). TBIs can range from mild concussions to long-term injuries and even death in some cases.
Abrasion injuries: Also known as "road rash," this painful injury happens when the skin is scraped off due to skidding along the ground. Although scooter accidents may occur at relatively low speeds, these types of injuries are common.
Sprains and strains: When you collide, all parties involved could fall awkwardly. This makes painful strains and sprains very common, especially in the wrists, knees, and ankles.
If you believe that your injuries were caused by someone acting negligently – whether you were riding the scooter or involved as a pedestrian – you need to talk to a Taylorsville, UT, scooter accident lawyer at Fielding Law. Our experienced personal injury attorneys will listen to your story and advise you on your chances of success. 
If we agree to take on your case, we believe you have a strong chance of success. Our scooter injury lawyers can use their knowledge of Utah law to fight for the best outcome for you.
The Law Regarding Riding Scooters in Utah
Utah law has set specific regulations for the kinds of devices that can operate on sidewalks. Utah Code Section 41-6a-1702 states that "a bicycle, a device propelled by human power, or a motor assisted scooter" can operate on a sidewalk. This means that kick scooters are legal on Utah sidewalks.
Bear in mind, though, that cities and other municipalities may have their own local bylaws on where you can and cannot ride a kick scooter. It is important to check before you take to the sidewalks, or you may open yourself to greater liability if an accident happens.
However, just like the operators of other vehicles, scooter riders must ride their scooters safely. If the scooter rider involved in your accident rode negligently or recklessly, you may have the right to pursue compensation. Likewise, if pedestrians, motorists, or others acted negligently or recklessly and thereby caused you to have an accident while operating a scooter, you may also be due legal recourse.
Proving Liability in Scooter Accident Cases
The first thing a Taylorsville, UT, kick scooter accident lawyer must do is gather evidence to prove liability. This may include:
Security camera footage
Police reports
Witness statements
Photographs and videos taken at the scene
If needed, a scooter injury lawyer may work with accident reconstruction specialists. They can help you prove how your accident came about and who was responsible. 
Under Utah law, you may be able to pursue damages even if you were partially at fault. This is called comparative negligence and allows you to claim if you were less than 50 percent responsible. That said, the compensation you receive will be lower if you are partly to blame.
Scooter accident victims can help their Taylorsville, UT, kick scooter accident lawyer representing them by gathering as much evidence at the scene as possible. 
Who may be liable?
This will vary from case to case, but potentially liable parties could include:
In the last example, it may be necessary to show that a lack of maintenance or another violation of local building codes or other violations had occurred. Proving liability in scooter accident cases can be very challenging, so it is vital to have a scooter injury lawyer on your side who has handled these types of cases before. 
Proving negligence
Next, your scooter injury lawyer must prove the at-fault party was negligent. He or she will build a strong case to demonstrate the following four points:
Duty of care: The negligent party had a duty of care toward you as either a road or sidewalk user
Breach: The other party breached their duty of care through negligent, reckless, or wrongful actions
Cause: The negligent party's actions were the cause of your injuries
Damages: The accident caused you losses for which you are entitled to compensation
Make sure to seek medical attention as soon as possible after your accident. This can help to establish that your scooter accident was the direct cause of your injuries. If you delay, it could be harder to prove the link. The defendant's lawyers could argue that your injuries were pre-existing or were not caused by your scooter accident.
Once your Taylorsville, UT, scooter accident lawyer has prepared your case, he or she will send a demand letter to the negligent party or his or her insurance company. Then your scooter injury lawyer will negotiate to try to secure the best possible settlement on your behalf.
If negotiations are unsuccessful, he or she can represent you in court. In such situations, a jury may decide whether the defendant is liable or not. If you receive a favorable outcome, the judge or jury will also decide how much compensation you receive.
Compensation in Scooter Accident Cases
If you win your case and receive a settlement, the amount of compensation you achieve is usually proportionate to the severity of your injuries. The more serious and life-changing your injuries, the higher the settlement may be. 
You could be awarded three types of damages in a Utah scooter accident case – economic, non-economic, and punitive damages.
Economic damages
Economic damages are awarded for the expenses you have incurred in connection with your accident. These can include:
Medical expenses
Lost wages and business opportunities
Property damage
Non-economic damages
This form of compensation takes into account other forms of harm that your scooter injury caused, possibly including:
Pain and suffering
Disfigurement
Loss of enjoyment in life
Punitive damages
If your case goes to court, it is possible that the judge or jury will award punitive damages on top of economic and non-economic damages. Punitive damages are not based on your expenses or your suffering but are imposed to punish the defendant.
Thus, punitive damages are only awarded in certain cases where the defendant acted willfully or maliciously in causing the accident. He or she must have shown a reckless indifference or disregard for your rights. Such damages are designed to serve as a deterrent to others.
Each scooter accident case is unique and brings its own challenges and opportunities. A scooter injury lawyer can talk you through the possibilities your case presents and may be able to give you an estimate of the compensation you could achieve.
Time to Call a Fielding Law Scooter Accident Lawyer
Scooters may seem harmless, but the legal team at Fielding Law understands the damage they can do. Scooter accident injuries can take years to get over and can change the very course of your life. That is why Fielding Law is here to fight for justice on behalf of scooter accident victims in Utah.
Our attorneys have a track record of achieving outstanding settlements for accident victims. Our law firm's results web page details many of our victories, including settlements of over $1 million.
Getting your own results all starts with a free case evaluation with an experienced and compassionate Fielding Law personal injury lawyer. Reach out today by filling in our online contact form or call us 24/7 at (877) 880-4090. Our team also speaks Spanish and is waiting to get you the legal help you need today.