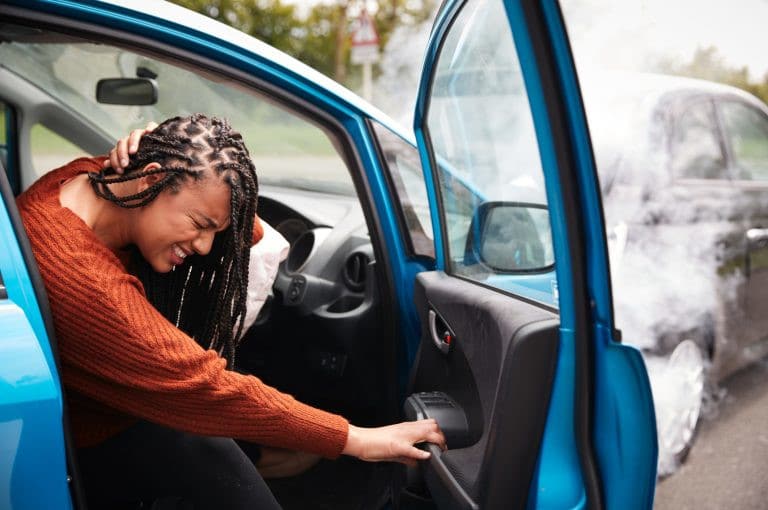 Nobody anticipates being in a car accident. Yet every year in Utah, thousands of people become victims of vehicle collisions. If you find yourself in this situation, you have options. You may not have to pay for your medical bills, property damage, and other out-of-pocket losses. There may be someone who is responsible to cover your damages. Our Experienced Taylorsville car accident attorneys at Fielding Law can help you fight for compensation after a serious car crash in Utah. The Fielding brothers are honest, hard working and friendly. We have secured millions for car accident victims and will do everything we can to help you get the justice you deserve.
Car Accident Resources in Utah:
Do You Need an Experienced Car Accident Attorney?
Do not try to self-represent during car accident insurance settlement negotiations or a jury trial. Although the Taylorsville courts permit self-representation, it is generally not in the auto accident victim's best interest. You may think it will save you money in attorney's fees, when really it could cost you thousands when compared to what an experienced car accident lawyer could have negotiated on your behalf. Retaining an attorney with a history of success in your practice area optimizes your odds of maximum recovery. Instead of settling for much less than your case is worth, work with an auto crash lawyer to fight for the compensation your injuries demand.
Call (801) 666-2912 to schedule your FREE consultation or fill out a contact form
One benefit you could enjoy with an experienced Taylorsville car accident attorney from Fielding Law, is personalized and immediate attention from a legal professional. Our team truly cares about our clients. Your success is our success. We prioritize personal service and one-on-one attention while pursuing compensation for personal injuries. You'll have direct access to your lawyer, with detailed services from beginning to end. We have big-firm resources with small-firm attention, taking on a limited number of cases to guarantee a close eye on your individual case. With help from an accident attorney in Taylorsville, you can truly protect your rights after a car crash in Utah.
Once you are on the road to physical recovery, contact our Taylorsville car accident Lawyers. We can help you gather more information about your crash and pursue just compensation through aggressive settlement negotiations or trial litigation. The team at Fielding Law has helped hundreds of auto accident victims improve their futures with financial compensation for damages. We want you to join our list of satisfied clients. Call (801) 666-2912 to schedule your free consultation. Hablamos Español.
What Are Your Options After a Deadly Car Crash?
Every state has unique laws concerning wrongful death claims after an accident. Utah's law regarding this states that only certain "heirs" or family members of a deceased individual may file a wrongful death claim if the death happened due to negligence or an intentionally harmful act. Surviving spouses, adult children, parents, stepchildren under the age of 18 at the time of the death, and any other blood relatives indicated in the state inheritance laws may file the claim.
Whoever decides to bring the claim to court will act as the deceased's representative. However, if the deceased specifically named a representative in his or her estate, the court will honor the deceased's wishes and the indicated person will act as the representative.
If your loved one was killed in an auto collision, Utah places a two-year statute of limitations on wrongful death claims against private individuals or companies. The representative may file the claim directly, and a wrongful death claim may run in tandem with criminal prosecution of the defendant from the state.
What to Do After a Car Accident in Taylorsville?
How an insurance company or the courts treat your claim can depend greatly on the steps you take after your auto accident. Delaying medical care, for example, can tell an insurer that your injuries must not have been serious or very painful. Failing to follow a doctor's orders during recovery can cause the defendant to argue that you contributed to the extent of your injuries. Not reporting the accident to authorities can erase your chance to have an official record of events. Follow these steps after a crash to protect your rights:
Don't admit fault

 Admitting fault to the other driver can hurt your chances of recovery. Even if you think you're at fault, allow authorities to make this determination. Utah obeys comparative negligence laws, meaning that an injured party may still recovery even if he or she is partially at fault for the crash.

Call the police

 By law, you must call 911 and report a car accident in Utah if it results in personal injuries, death, or property damage exceeding $1,000. These parameters encompass most car accidents. Never let the other driver convince you not to call the police or your insurance company. This can end in zero compensation if he or she gives you false information.

Go to the hospital

 Do not delay medical care. If you don't think you're injured, it is still worth a trip to your doctor's office (preferably the hospital the day of the accident). You could have an injury such as a concussion, which can show delayed symptoms. Keep track of your medical bills and documents relating to your injuries.
What Damages Can I Receive After a Car Accident?
Damages in most car accident claims are similar to those seen in personal injury lawyers claims. However, claimants can secure additional types of compensation that are unavailable in injury claims. Plaintiffs filing a claim after the death of a loved one can be eligible for several damages including;
Medical expenses

for all treatment the deceased individual received for his or her final injury or illness.

Pain and suffering damages

This includes pain and suffering the deceased experienced from his or her final injury or illness as well as the pain and suffering endured by the family members due to the death.

Lost wages

This can include the deceased individuals' lost wages after his or her fatal accident until the time of death as well as future earnings the deceased would have reasonably expected to earn in the future.

Funeral and burial expenses
Loss of companionship

This can also include affection, love, guidance, support, and companionship the deceased provided.

Punitive damages

In cases involving intentionally harmful acts or gross negligence, or when a wrongful death claim runs in tandem with a criminal case from the state, the plaintiff may receive punitive damages that serve to discourage similar behaviors in the future.
When fatal car accidents happen, they can send a family reeling from an unexpected death of a loved one. In these difficult times, surviving family members need reliable legal counsel who can handle the legal issues so they can grieve in peace. The Fielding Law team knows how difficult fatal car accident cases are for surviving families, and we go to great lengths to ensure our clients' comfort and success.
Contact Fielding Law's Taylorsville car accident Attorneys to schedule a case evaluation for your fatal car accident claim. We offer contingency fee pricing, so claimants do not need to worry about paying legal fees if they do not succeed in their cases. We'll review the details of your claim and let you know what to expect.
Taylorsville Roads and Highways
Taylorsville's infrastructure is unique around the country in that it boasts wide streets and large city blocks. One city block is about the length of two football fields. To put this in perspective, about nine city blocks in Portland, Oregon can fit on one Taylorsville block. The unique grid structure came from early settlers who designed wide, large streets to accommodate homes with plots of land for gardens. Such early settlers believed that by giving the settlers enough space, the city would be more peaceful and free from crime.
Early settlers established the city in 1847 instead. To this day, Taylorsville has extremely wide roads. Even areas of the downtown accommodate six lanes of traffic. The width of the streets and length of blocks contribute to the number of intersection accidents and pedestrian collisions in the city. The roads can feel hostile and the sidewalks dangerous to walk. As a driver, one must constantly be on the lookout for crossing pedestrians, and have the ability to navigate multiple lanes of traffic on the highways and downtown. The strange infrastructure has led to an increased rate of car accidents in the city.
Taylorsville Car Accident Statistics
Almost all car crashes are preventable. They stem from distracted, drunk, careless or downright reckless drivers who put others' lives in danger. Looking at the hard facts about car accidents in Utah can help drivers understand the importance of driving safely. Based on the "Utah Crash Summary 2016," the most recent data available, here are the latest statistics:
A recorded 62,471 motor vehicle accidents occurred in Utah in 2017, resulting in 26,738 reported injuries and 281 deaths. Salt Lake County had the highest crash rates per mile traveled, followed closely by Weber and Cache Counties.
A car crash occurred in Utah every 8 minutes, a person was injured in a crash every 19 minutes, and a person died in a crash every 31 hours.
Salt Lake, Weber, and Cache Counties had the highest crash rates per miles traveled.
Crashes were highest between 3:00 p.m. and 6:59 p.m
Drivers aged 15-24 years had the highest crash rates per licensed driver.
Motor Vehicle Fatality Rate: U.S. vs Utah
Based on vehicle miles traveled, Utah's motor vehicle fatality rate is firmly below that of the U.S. as a whole and has been so since 2001.
[wpdatachart id=1]
Driving on Utah's urban and rural roads is always a risk. Other drivers, roadway conditions, the weather, animals, vehicle parts – these are all factors that could contribute to a car crash. While no one can predict an accident, you may be able to prevent one. The more you know about what causes the most crashes and related deaths in Utah, the better you can protect yourself.
Car Accident Deaths by Month in Utah
In Utah, the summer months are by far the deadliest for drivers. Over the last ten years, June, July and August have been 1,2 and 3 for motor vehicle fatalities.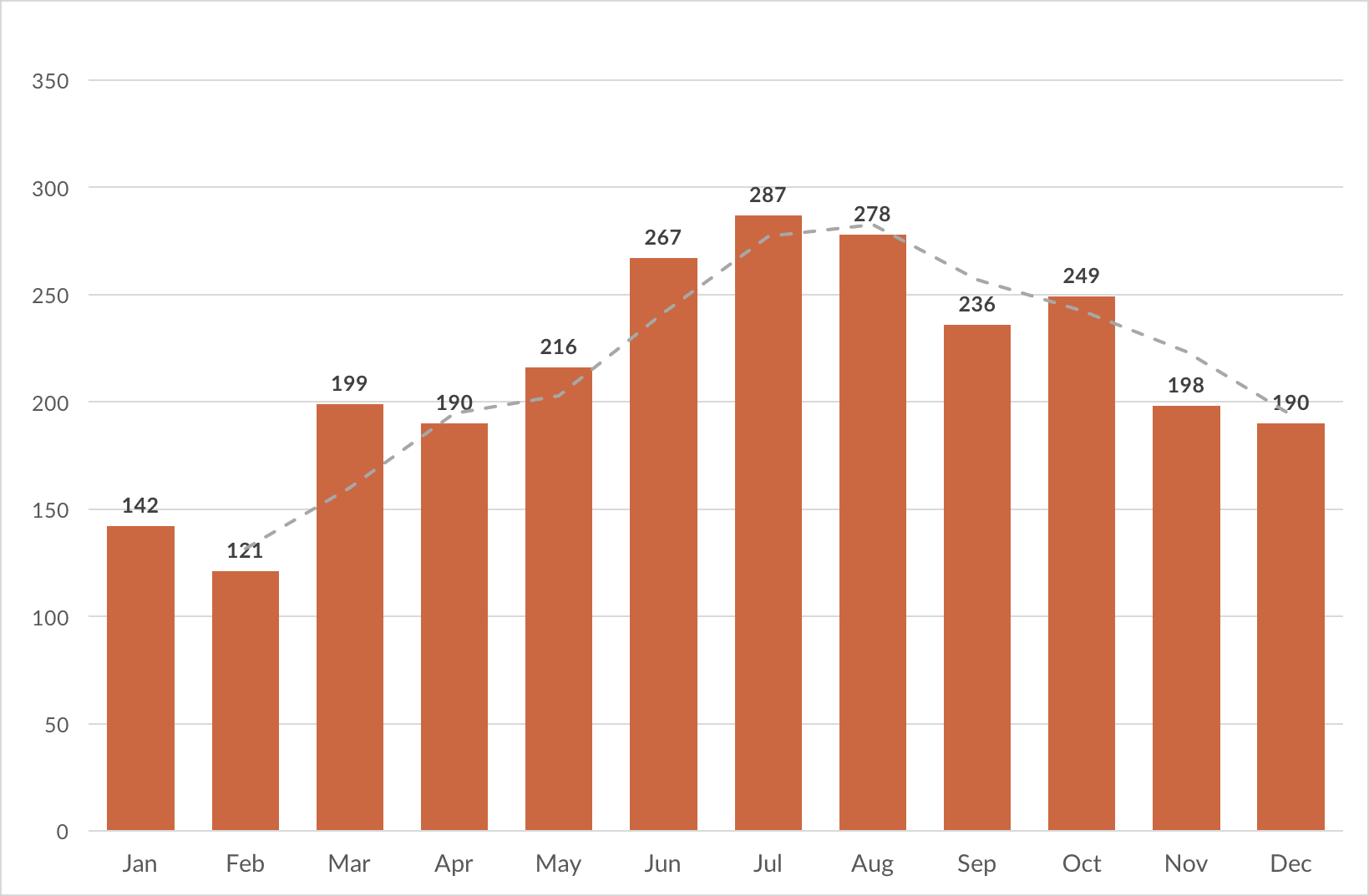 Leading Causes of Car Crashes and Death in Utah

The same Utah Crash Summary document analyzed the most common causes of auto accidents and related fatalities within the state. This information aims to point out the most frequent contributing factors in accidents, to spread awareness, and, ideally, bring these numbers down in the future. Avoiding these common causes could greatly reduce your chances of being in a fatal accident. The most common causes of crashes in Utah for 2016 were as follows:
Following too closely (24%)
Failing to yield (20%)
Speeding (15%)
Failing to stay in the proper lane (19%)
Driving distracted (9%)
Some car accident factors are deadlier than others. While many car accident victims will walk away with non-fatal injuries, others are not so lucky. Most people in Taylorsville know at least one person who has passed away in a fatal car accident. Spreading awareness of what causes these crashes most often in Utah can help others from becoming statistics. According to the 2017 deadly crash summary, the five most common causes of accident fatalities in the state are:
Speeding (41%)
Failing to restrain vehicle occupants (31%)
Older Drivers (22%)
Pedestrian Accident (15.8%)
Driving drunk (11%)
Failing to yield (11%)
Failing to stay in the proper lane (11%)
Obeying the law could prevent virtually all of these accidents. Drivers should stay within the posted speed limits (or slower depending on conditions), follow restraint usage laws, never drink and drive, yield the right-of-way when appropriate, and stay within lanes unless safely making a change. Simply obeying Utah's traffic laws can be the best way to minimize your chances of being in a wreck.
Common Types of Car Accidents
Auto crash data allows researchers to identify certain types of collisions that are more common than others. Identifying your type of auto accident can help pinpoint its proximate cause. For example, rear-end collisions often stem from following too closely or distracted driving. An investigation can give you a more definite answer to what caused your collision, but understanding the common types can be a good starting point. Here are the five most common types:
Rear-end collisions

The bumper-to-bumper traffic in Taylorsville is conducive to rear-end collisions. Many of these accidents are minor but can still cause injuries like whiplash. Serious rear-end collisions, such as those at high speeds, can cause more severe back, neck, and other injuries.

Single-vehicle accidents
Sideswipe accidents


 

When the sides of two vehicles headed in the same direction collide, it is a "sideswipe" accident. Overcorrecting after a sideswipe can lead to a more serious crash, as can losing control of the vehicle. Remaining calm and slowing speeds gradually can reduce the severity of these accidents.

Vehicle rollovers

The forces in some crashes are enough to overturn a vehicle, resulting in a rollover accident. Rollovers can lead to broken bones, crush injuries, and ejection from vehicles (if passengers aren't properly retrained). The structures of some vehicles are more prone to rollovers than others.

Head-on collisions

When a vehicle drifts into oncoming traffic or tries to turn in front of an oncoming vehicle, it can result in deadly head-on collisions. In these accidents, the speed of the collision is equal to the combined speeds of both individual vehicles. This is what makes these types of accidents so catastrophic.
If you find yourself the victim of any type of car accident in Utah, speak to an Taylorsville car accident attorney. Whether the crash was minor or major, you may have sustained injuries that lead to medical bills, missed time at work, physical pain, and emotional suffering. These are compensable damages in the eyes of the law, making you potentially eligible for financial recovery through a personal injury claim.
Other types of car accidents claim that our Taylorsville attorneys handle:
Car Accident Deaths By State
According to the U.S. Department of Transportation, Utah is number 34 in the country for the amount of deaths every year caused by car accidents. In 2016, nearly 300 people were killed in car wrecks.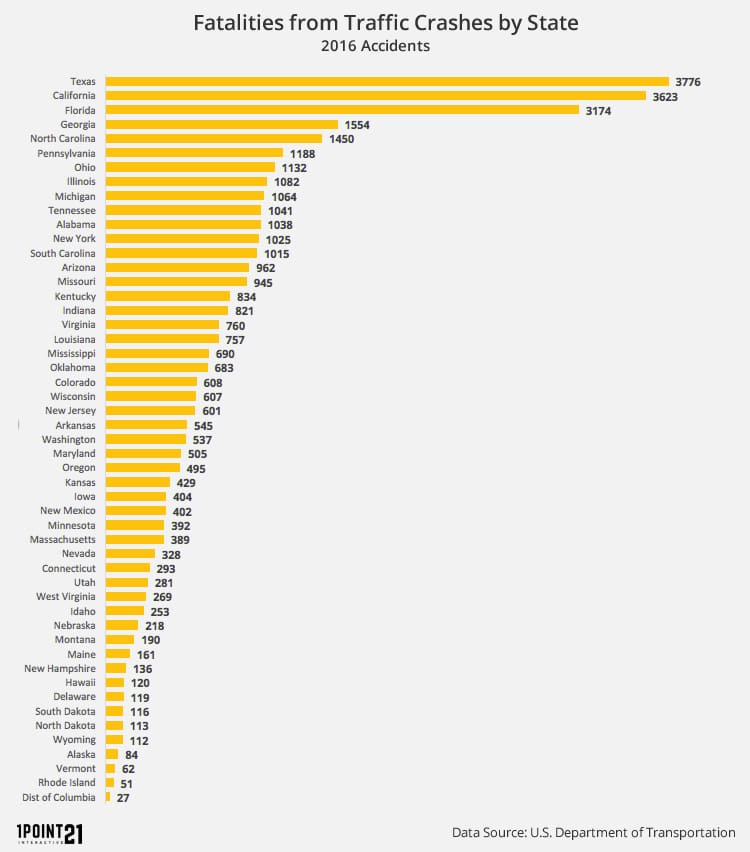 Can I Still Seek Damages if I Was Found Partially at Fault After a Car Crash?
In Utah, it is possible to recover monetary compensation for your car accident even if you were partially at fault. Fault for a collision alone is not enough to bar you from recovery. As long as the courts find you at least less than 50% responsible for causing the crash, you are eligible for partial recovery. Comparative fault can appear in many cases; especially those where the defendant uses the plaintiff's shared fault as a defense. Find out how the Taylorsville courts assign fault for a car accident and how you can increase your odds of compensation even if you contributed to the crash.
What Is the Utah Comparative Negligence Law?
Utah abides by a modified comparative negligence law in deciding compensation for car accident claims. The comparative negligence principle states that a party's fault for an accident will not bar that party from seeking damages as long as the percentage of fault is less than the other parties' combined percentages of fault.
The Utah legal system recognizes that most accidents do not stem from only one party's fault. In any personal injury claim, the courts can divide fault among as many parties as necessary to serve justice. The defendants, however, are not the only parties who can face liability for an accident. The plaintiff, or party seeking recovery, may also share fault. As long as the plaintiff's percentage of fault does not exceed the fault of the other parties, the plaintiff may still recover.
Don't assume you can't recover if you were negligent in some way that probably contributed to the accident. Talk to a car accident lawyer about comparative negligence laws. It may surprise you to find that you're still eligible for compensation, as long as the courts find you less than 50% responsible for the car accident.
In cases that involve a plaintiff's comparative fault, the courts will diminish the plaintiff's compensation award by an amount proportionate to his or her percentage of fault. Take this example: In a case involving two drivers, the courts assign the plaintiff with 10% of fault for speeding, while the defendant receives 90% fault for running a red light. The total compensation award is $10,000. The plaintiff would take home $9,000 of this award, or the total minus the 10% fault ($10,000-$1,000). A plaintiff can still recover some compensation all the way up to 49% fault in Utah.
How Do the Courts Assign Fault?
It can be difficult to establish comparative negligence. To use your own fault as a defense, the defendant must show proof you contributed to the crash. Both parties will need to investigate the accident and understand what happened in as much detail as possible. In general, if an investigation uncovers that one party was particularly negligent or careless, this party will bear the majority of fault for the collision. Assigning exact percentages, however, can be a complex legal process.
It is often up to the attorneys involved in the case to gather evidence and present facts to a judge or jury. A car accident lawyer can paint a picture of how the crash happened, including its most likely cause. Recreating the accident, hiring expert witnesses to testify, and interviewing eyewitnesses can all make a case stronger. Insurance companies can also conduct their own investigations and lend their findings to a case. Both parties will have to prove the other party's fault for the accident for a comparative negligence claim.
Utah's Negligence Laws
Negligence is at the heart of all car accident claims. Utah is a no-fault state in terms of insurance settlements. This means you have to recover through your own insurance company regardless of who caused the crash. There are, however, certain scenarios in which you can sue outside the confines of the no-fault laws. You could pursue a negligence-based claim against the other driver or a different party if your medical bills exceed $3,000. These claims depend upon the injured party's ability to prove fault.
Four Elements to Prove Negligence in Utah
There are four main elements you need to prove negligence in Utah:
Duty

Breach of duty

Causation

Damages
Every driver owes all other drivers duties of care on the roadways. If you get behind the wheel in Taylorsville, you're taking on automatic duties to obey the rules of the road, drive safely, and reasonably prevent car accidents. It's typically easy to prove that another driver or other entity owed you a duty of care in an accident.
Breach of duty is often the most difficult element to prove in a car accident claim. The defendant's breach of duty, or act of negligence, can be anything that fails to fulfill the expected standards of care the defendant owed the plaintiff. A breach of duty can be drinking and driving, texting and driving, falling asleep behind the wheel, speeding, or some other act of negligence.
You must then show a causational link between the defendant's breach of duty and your car accident. For example, you probably would not have a claim against a driver if a pothole made your vehicle lose control, even if the driver wasn't paying attention. The defendant's actions must be the proximate, or main, cause of your accident.
Finally, you must have evidence of real and compensable damages as a result of the collision. Real damages in the Utah court system include personal injuries, property damage, lost wages, and pain and suffering. You can seek recovery for both economic and non-economic damages in Utah.
This is what our former clients are saying about us:
"After the auto accident, we could not have done better than to have Mitchell Fielding represent us. He is knowledgeable and does the research. He will talk to you any time and lets you know that he is there to help with anything. This man will go the extra mile and then some. I hope we never have another situation like this, but if we did, Mitch is our go to guy." -Debra White