Liability for Emergency Vehicle Accidents in Utah
Posted February 15, 2019 | Uncategorized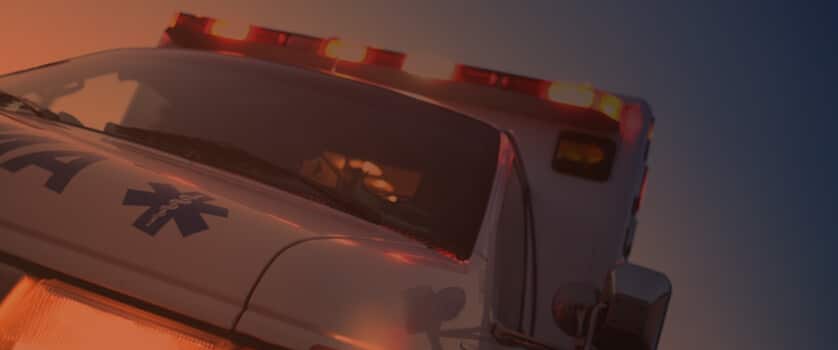 An accident involving an emergency vehicle in Utah can lead to confusing questions of liability. The government owns emergency vehicles in Salt Lake City. Filing a car wreck claim against a government entity requires navigating the Governmental Immunity Act of Utah. Liability may also rest with other parties – including the injured motor vehicle driver if he or she broke the state's Move Over law.
Utah's Move Over Law
All states have some form of a Move Over law, aimed at protecting emergency and utility vehicle drivers as well as allowing them to make it to their destinations faster. Utah's Move Over law states that all drivers shall yield the right-of-way and immediately move to the right-hand side of the road, or as close as possible, when an authorized emergency vehicle using visual or audible signals approaches. The driver must stop and remain stopped until the emergency vehicle has passed.
If a driver is passing a stopped emergency vehicle with its lights or siren on, the driver must slow down and give the emergency vehicle as much space as practicable. The same is true of drivers passing stationary tow trucks or highway maintenance vehicles displaying flashing lights. Breaking Utah's Move Over law is an infraction that could result in penalties such as a mandatory defensive driving course and driver's license suspension for 90 days.
A driver's failure to obey the state's Move Over law, resulting in a preventable collision with an emergency vehicle, could lead to driver liability for damages. It is every vehicle driver's responsibility to know and obey the Move Over law. Yet if the driver could not move over because of other vehicles, or if the emergency vehicle did not have an audible or visual signal, the driver may not face liability for damages.
Liability for Emergency Vehicle Accidents
Liability for a car accident in Utah will fall to each driver's own insurance company under the state's no-fault insurance laws. The only time an injured driver may hold someone else responsible, regardless of fault for the crash, is if his or her injuries meet the state's threshold for serious injuries. This generally includes catastrophic and permanent personal injuries, as well as wrongful death. If a crash victim does have grounds to file a claim against the at-fault party outside of the state's no-fault insurance system, the victim must determine liability.
Duty of care. The person liable for damages will have owed the victim a duty of care at the time of the crash. Emergency vehicle drivers, for example, owe others on the roadway a duty to reasonably prevent accidents through prudent vehicle operation.
Breach of duty of care. The at-fault party must have breached a duty of care in some way according to the circumstances. Examples include distracted driving, speeding, drunk driving, and ignoring the right-of-way.
The defendant's breach of duty of care must be the main cause of the car accident and injuries in question.
The victim must have suffered compensable damages in the wreck, such as medical bills, injuries, lost wages, property damage, and pain and suffering.
These are the four key elements of a car accident lawsuit in Utah. The defendant in your case if the emergency vehicle caused your wreck would most likely be the government, as public fire stations and hospitals (and their vehicles) are under government ownership. If an on-duty driver caused your crash, the government could be vicariously liable.
Filing a Claim Against the Government in Utah
A claim against the government for an emergency vehicle wreck comes with a shorter statute of limitations than typical injury claims. Claimants only have one year to file lawsuits against the state or federal government, while non-government injury claims come with four-year statutes of limitations. If the government agency denies the claim, victims have one year to appeal the denial. Hiring a lawyer can help victims involved in accidents with emergency vehicles in Utah.