[Study] Bicycle Crash Hot Spots in Utah
Posted September 24, 2018 | Uncategorized
Although Utah frequently ranks low nationwide in annual bicyclist fatalities, bicycle safety and friendliness is nonetheless a serious concern throughout the state.
Despite low fatalities, 372 bicyclists are injured, on average, in Utah every year – and about 47 percent of cyclists involved in crashes are under 25 years old.
We wanted to know specifically where bicyclists were most vulnerable to automobile accidents, so we consulted with data visualization firm 1Point21 Interactive for a deeper analysis of the issue.
Unfortunately, since bicyclist volume data isn't available, the best we could do is to identify locations in Utah where most bicyclists crashes occur. These high crash locations may or may not be locations that are dangerous for bicyclists.
To compare the relative safety or danger of intersections, you must know how many crashes have occurred and how many bicyclists ride through each intersection. This allows the calculation of a crash rate, which is the number of crashes per bicyclist using the intersection. For example, a location where 20 bicyclists ride through annually and 10 are involved in a crash, is obviously more dangerous than a location where 20,000 bicyclists ride through annually and 10 are involved in a crash.
With data sourced from the Utah Department of Transportation, we compiled a list of zones throughout the state with the highest concentration of bicycle crashes.
Through our analysis, we found that, from 2014-2017, there were 412 bicycle collisions across 33 distinct zones, leading to nearly 250 injuries.
[Interactive Map] Bicycle Crash Hot Spots in Utah
[Data Table] Crash Hot Spots for Cyclists in Utah
*Rotate Device for Best Mobile Experience
[wpdatatable id=3]
Salt Lake City Has The Most Bicycle Crashes
Utah's largest city exhibited the most crashes for bicyclists. The state capital contained ten zones, including a widespread zone in Downtown centralized at the intersection of 200 S and State Street. This zone accounted for 77 bicycle collisions with 37 leading to injury, resulting in a Bicycle crash rate of 184 – ranking second on our list.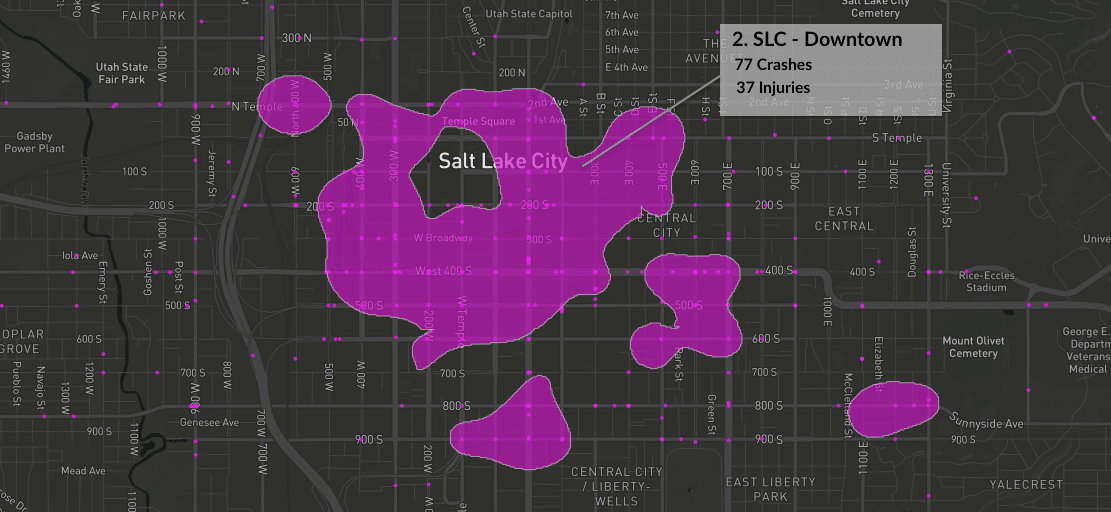 It's worth noting that Salt Lake City has the widest streets and largest blocks of any major city in the United States. By comparison, SLC blocks are three times the size of cities such as Portland, and their streets are more than double the width of those in San Francisco and Manhattan.
This spread-out design was actually based on conventional principles of the Church of Jesus Christ of Latter-day Saints. Blocks were made larger to enable family farming, while the streets were widened so that farmers could more easily direct their cattle through the streets.
While this was ideal in the 19th century, wider streets are a net negative for cyclists in the modern age:
They increase the time cyclists spend in motorist lanes when taking left turns or changing lanes, leaving them exposed to motor vehicles.
They're more accommodating to vehicles, who tend to view wide streets as an opportunity to drive faster and potentially recklessly.
Although the implementation of safety medians and bike lanes may alleviate this, it may take more drastic measures to ensure bicycle safety in the state's capital.
Salt Lake City Metro Dominates the List; State Street is a Cause for Concern
[wpdatachart id=3]
On a larger scale, the Salt Lake City metropolitan area dominates our list, accounting for 24 of 33 zones. Arguably the densest region of Utah, with the greatest numbers of bicyclists, populated with younger professionals open to bicycling to work, it seems logical that there would be a greater likelihood of bicycle collisions.
However, State Street remains a central location for bicycle crashes through the Salt Lake City metro area, the site of seven of the major zones in Salt Lake County. Despite being a fairly wide corridor, State Street is a popular route option for those looking to ride through downtown Salt Lake City. Our data seems to substantiate that: the seven zones along State Street account for 141 total crashes – nearly 35 percent of all crashes in our zones.
Provo Rivals Salt Lake City in Cyclist Crashes
Provo, the second-most populous city in Utah and home to Brigham Young University, is prone to bicycle crashes as well. Although it only has three zones in our list, the top zone has the second-most crashes and the highest bicycle crash rate. Encompassing nearly all of Provo's downtown area, the zone accounted for 70 bicycle accidents – with over 65 percent resulting in injury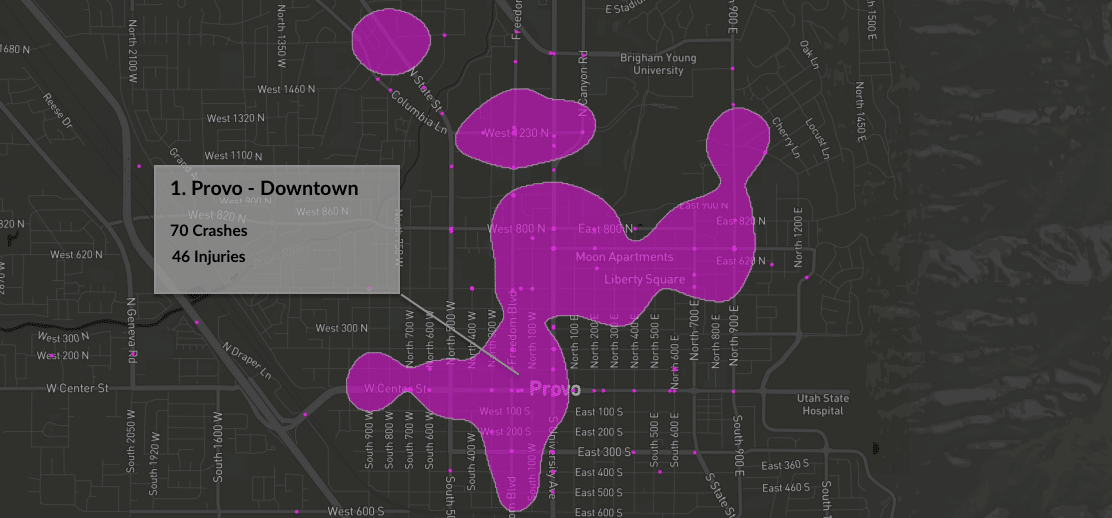 Although this zone had seven fewer crashes than the Downtown Salt Lake City zone, it also had nine more crashes that resulted in moderate or serious injury – causing it to narrowly edge out the zone and take the top spot.
Other Notable Zones
Ogden – Downtown: This zone ranked fourth in total crashes and fourth in crash rate. Running along a stretch of Washington Blvd, it accounted for 21 total bicycle collisions – 13 resulting in injury.
Logan:  The home of Utah State University contained one zone encompassing a bend of East 400 N and S Main Street and ticked 15 total crashes – ranking fifth in crashes and crash rate.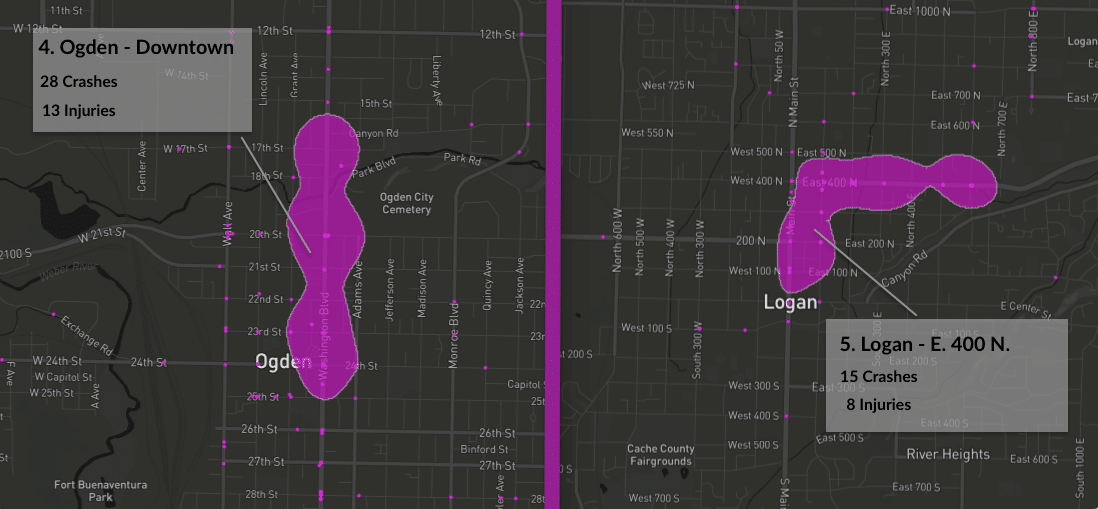 Staying Safe on Utah's Roads
Although drivers must do their part to exercise care and safety, cyclists can also be mindful to reduce the likelihood of a tragic accident on Utah's wide roads and corridors.
Drivers can follow these tips:
Give undivided attention to the road at all times. One of the biggest causes of bicycle collisions is distracted driving. Keep your eyes on the road and be on the lookout for bicyclists – especially in more heavily concentrated urban areas such as Salt Lake City.
Respect bicyclists and be patient. This is especially important in places with extremely wide streets such as Salt Lake City. If you are in the rightmost lane and see a bicyclist in the bike lane, reduce your speed and be cautious. If a bicyclist is changing lanes to make a turn, be patient; do not attempt to zip past a cyclist to overtake them. Other vehicles may take your actions to mean that there aren't any cyclists on the road, creating a potentially tragic accident-in-the-making.
Do not drive while intoxicated or excessively drowsy. Driving intoxicated can severely impair judgment and reaction time, and cloud your decision-making skills. Avoid drowsy driving; in certain circumstances, it can be as dangerous as driving under the influence.
For bicyclists, it's heavily recommended to:
Wear a helmet. It's not required by the law, but it can prevent serious injuries in the case of an accident – including death.
Always ride in designated bike lanes when appropriate, with traffic. If there is no designated lane, ride in the rightmost side of the road. If you must make a turn, use the appropriate hand signals.
Make eye contact with drivers while sharing the road. This is an easy way to ensure that motorists are aware of your presence.
Follow all the road signs and signals. In sharing the road with motorists, you have the same responsibilities as motorists, and you must follow the same rules of traffic safety.
When riding at night, be sure to wear bright colors. Ensure your bicycle has the proper reflectors and lights installed so motorists are aware of your presence on the road.
Data and Methodology
Data was sourced from the Utah Department of Transportation and the analysis was performed using a Kernel Density Estimation. Zones were considered hot spots if five or more bicycle collisions occurred within it over the study period.  More information is available upon request.