Bus Accident Attorney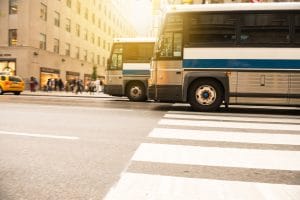 Thousands of people rely on buses for transportation every day. When car accidents occur that involve these massive vehicles, bus employees, passengers, and other drivers are at risk. No access to seatbelts and the constant shuffling of people increases the likelihood that you will be injured as a passenger, and, if you're in another vehicle that a bus collides with, you may sustain significant injuries. With so many parties and factors involved in these accidents, a personal injury claim can become dauntingly complex. In this case you could seek advise from a bus accident attorney.
How a Fielding Law Bus Accident Lawyer Can Help
An attorney can review all other factors relevant to you case, including statutes of limitations for filing a claim, determining whether negligence was a factor (such as a drunk or distracted driver), and how you can voice your claim against a public authority or bus company in the most effective way possible.
Contact a personal injury lawyer at Fielding Law for more information. We have expert knowledge of auto accident claims and the laws and understand the additional responsibility placed on bus drivers. Get started with a free consultation. We will review the facts of your case and recommend how you can proceed with the highest chance of receiving the outcome that you deserve.
Filing a Lawsuit After a Bus Accident
The type of bus will play a major role in your claim. These cases may include city and state buses, shuttles, commercial and private coaches, and school buses. This means that bus accidents may involve coordinating with parties in different regions or across several states. Managing so much information is nearly impossible for an individual; the inherent complexity of these cases warrants speaking with an attorney about your legal options.
A legal team can help you gather evidence, including eye witness testimony, police reports, and the bus driver's version of events, to corroborate a personal injury claim following an accident.
Factors that may affect your case outcome:
Accidents involving the local transit authority.

If you experience an accident while using public transportation system, you may face a narrower statute of limitations.
This means that you will have to act quickly to collect evidence and move against the responsible parties. It is essential to act appropriately and confidently to ensure the protection of your rights when a governmental body is part of the situation.

Accidents involving school buses.

Pedestrian and passenger accidents are especially devastating when they involve children. As such, the laws surrounding school bus accidents are especially strict whenever negligence is a factor. An attorney can help investigate all factors related to these cases, such as the driver's condition at the time and whether the school had safely maintained and operated the vehicle.

Accidents involving a bus hitting another vehicle.

Most fatalities in bus accidents are occupants of other vehicles. For example, the National Highway Traffic Safety Administration reported 71% of people killed in school transportation accidents were passengers in other vehicles. Because of the size of these vehicles and the potential for extreme damage, professional bus drivers are held to higher standards than other motor vehicle operators.
Contact our Salt Lake City bus accident lawyers or the Mesquite bus accident lawyers to help you get the compensation you deserve.