Uber and Lyft Accident Attorney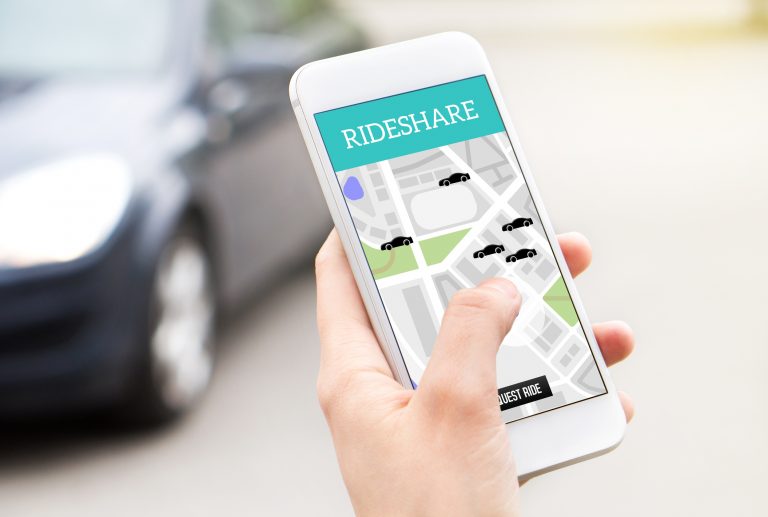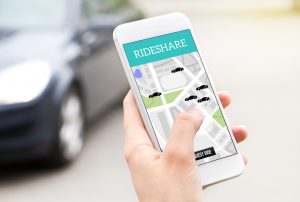 Whether you need a lift to the movie theatre or to head home from the bar after a night catching up with friends, getting a ride is just a click away in today's day and age. Cheaper rates and broader availability have made ridesharing apps like Uber and Lyft a staple on anyone's iPhone. The abundance of Uber and Lyft drivers on the road, however, means that more and more people are finding themselves involved in an accident with the drivers of these services. As rideshare companies are a relatively new concept, accidents involving Uber and Lyft create a complicated puzzle when it comes to determining fault and holding the right party liable. 
How Uber and Lyft Accidents are Different
Car accident cases, in general, involve a lot of moving parts that can be confusing for any victim. Accidents involving vehicles operated for Uber, Lyft, or other ridesharing services add a whole new level of complexity to an already murky area of the law. 
Whose Insurance Steps Up in an Uber or Lyft Accident?
Most ridesharing companies carry insurance on a vehicle from the moment a driver accepts a trip to the moment his or her passenger is dropped off at the destination. Lyft, on the other hand, has four different tiers of insurance that come into play, some of which are involved even when a driver is only active but has not yet accepted a ride.
This isn't the only type insurance that can become involved in an Uber or Lyft accident, however; in addition to being covered by a company policy, drivers who provide rides for these companies must also carry their own personal policies. If you were involved in an accident involving an Uber or Lyft driver while driving your own vehicle, this gets even more confusing, as your own insurance company is now a player in the game. The presence of all of these insurance companies is a double-edged sword—although you may be covered by policies that you didn't know about, these companies might try to pawn off the responsibility on to each other. 
Potential Compensation in an Uber or Lyft Accident
The pain that the victim of an Uber or Lyft accident suffers extends far beyond the physical level—a car accident can send even the most fiscally stable individual into financial turmoil. Between a damaged (or completely ruined) vehicle, a mountain of medical bills and time away from work, you may find yourself saddled with a pile of debt after an accident. There is help available. A successful personal injury claim can provide financial compensation for a wide variety of losses or damages, that you suffer as a result of your accident. 
Property damage. If you were driving or riding in your own vehicle and were involved in an accident involving an Uber or Lyft driver, your car may be significantly damaged or even totaled. A successful personal injury claim can provide compensation to repair your damaged vehicle or replace one that is beyond repair. 

Medical bills. Even a minor accident can lead to substantial injuries. If you had to seek medical attention following your accident, medical expenses such as; hospital stays, surgical costs and rehabilitation can be covered in a personal injury claim. If you were injured to the point that you need long-term care, a successful claim can provide financial compensation to cover the costs of future care as well. 

Lost wages and lost earning capacity. If your Uber or Lyft accident was anything more serious than a minor fender bender, you may have had to miss time from work in order to be treated for and recover from your injuries. Unfortunately, this means that you may have missed out on hourly wages or other forms of compensation that you would have earned, had you not been involved in the accident. A personal injury claim can reimburse you for the income that you lost as a result of missing time from work. If you were injured to the point that you are permanently disabled and unable to work again, a personal injury claim can even provide compensation for lost earning capacity that you would have had the ability to earn in the future. 

Physical pain. Many accidents result in severe injuries that lead to chronic pain. Although your pain can't be quantified into a dollar amount, a personal injury claim does take into account the physical pain that you suffered during and after your accident. 

Emotional trauma. Involvement in a serious accident can take a toll on even the strongest of people. If you were the victim of an Uber or Lyft accident, you may find yourself suffering from mental and emotional effects such as depression, anxiety, and an inability to sleep. Although no amount of money can make these symptoms go away, a personal injury case can nevertheless provide compensation for the emotional suffering you have dealt with after your accident. 
In some cases, an at-fault party's actions may be so shocking and shameful that an award of the damages listed above is simply not enough. In these rare cases, the victim of an accident may be awarded additional punitive damages. Unlike the damages listed above, this type of compensation isn't meant to make an injured party whole again; rather, as their name implies, these damages are meant to punish an at-fault party for the egregious actions that led to the accident, and serve as an example of what could await those who might consider acting in a similar way in the future. 
Time Isn't Unlimited—Seek Legal Representation Quickly
When you are involved in an Uber or Lyft accident, getting an opinion from an attorney may be the furthest thought from your mind. It is important to seek legal advice as soon as possible as your legal rights are only protected for a limited time. Deadlines called "statutes of limitations" place a time limit on when a person can bring legal action against an at-fault party for causing an accident. Once these time limits have expired, it's extremely difficult—if not impossible—to fight for the justice you deserve after your accident and your case is almost always going to be dismissed. Statutes of limitations vary from state to state, so it's important to consult with an attorney to determine how much time you have to take legal action. Even if your state's statute of limitations is a few years long, it's important to seek legal counsel as soon as possible after your injury. A successful personal injury case—especially one involving complex puzzle pieces like that of an Uber or Lyft accident—takes a substantial amount of preparation to craft. The last thing you want to do is finally seek an attorney's help just to discover that you only have a week to file a claim, or worse, that the deadline to file a claim has already come and gone. 
What Insurance Companies Don't Want You to Know
Despite the slogans promising otherwise, when you are party to an accident involving an Uber or Lyft vehicle, insurance companies are not on your side. No matter the circumstances surrounding your accident, you should never talk to a representative from an insurance company without first seeking advice from an attorney. This includes your own insurance company. When dealing with an insurance company, it's important to keep the following thoughts in mind: 
Your calls aren't just between you and your insurance representative. When you're involved in an accident, it's a pretty safe bet that one of the first calls you will receive will be from an insurance company. Your representative will probably tell you that your call is being recorded "for quality assurance," or something along those lines. When it comes to insurance company calls, the only quality you are assuring is the quality of the insurance company's case. Your representative may make you feel like making you whole again is his or her most important goal, but don't forget who these representatives work for, and who they are trained by. An insurance company will use your recorded calls against you at any chance they can find. 

There is no such thing as "good paperwork."After your phone call with an insurance company—or even before, in some cases—you'll likely receive a stack of paperwork to sign. Always remember that any paperwork that you sign that is from an insurance company is created by that company. As such, you can rest assured that the paperwork is crafted to be beneficial to the insurance company's case rather than yours. No matter how innocent a piece of paperwork may look, consult an attorney before signing anything. By signing insurance paperwork that you don't understand, you can be waiving rights that you didn't even know you had. 

Remember the insurance company's main goal. Don't fall into the trap of thinking that your insurance company has your best interests in mind because you pay a premium every year to drive insured. At the end of the day, your insurance company is still just that—a company. Although you may be a customer, your insurance company has one overarching goal, and that is to protect their bottom line and to be as profitable as possible. The way to achieve these goals? They need to provide as little payouts as possible to those who are involved in accidents, including people just like you. 
Injured in an Accident involving Uber or Lyft? We are Here to Help
If you've been injured in a car accident involving an Uber or Lyft driver—whether as the driver of another vehicle or as a passenger paying for these services—it's important to get the legal help you need from an attorney who has experience in these novel forms of accident cases. No matter your situation, our team of personal injury attorneys at Fielding Law are here to provide the representation you need to achieve the results you deserve. Don't wait until it is too late to seek justice for the accident you never should have been a part of.
To speak to a member of our personal injury team about your accident today, fill out an online case evaluation form or call (877) 880-4090 today.