Broken Bone Injury Attorney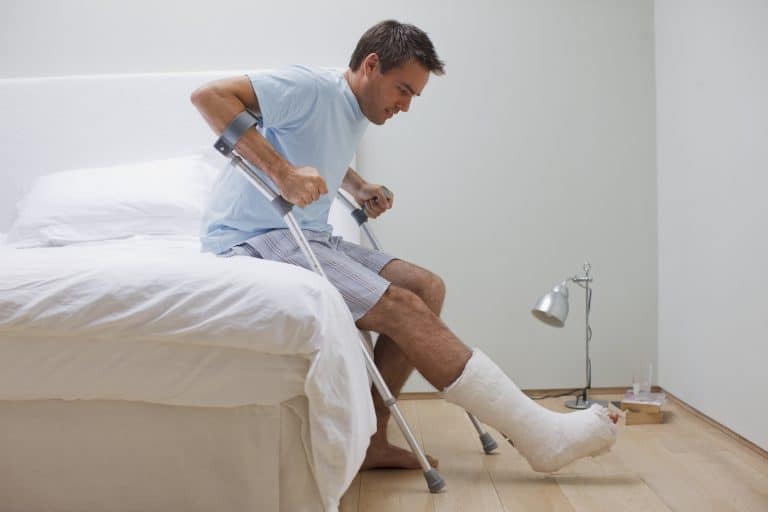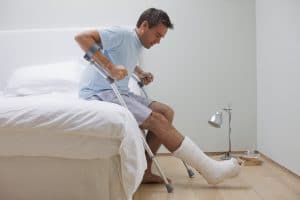 Were you involved in a car accident that caused you to suffer a broken bone? Has negligence on the part of a homeowner, store employee or someone else caused you to slip and fall, trip or in some other way, break a bone? If so, you have the right to receive compensation for your medical bills, pain and suffering, cost of rehabilitation and lost wages. Don't let your financial recovery be a matter of chance! Secure legal counsel with Fielding Law so that you can be sure to get the help you need to fully recover from a broken bone accident.
What Types of Breaks Can I Be Compensated For?
At times, a broken bone may need long-term care, and may result in an unchanging and irreparable disability. Broken bones are categorized into various types but are all considered fractures. Whether your break is determined to be a hairline fracture(a thin crack in the bone) or a complete fracture (broken into two or more pieces) all broken bone injuries are technically fractures.
The following is an inexhaustive list of common fractures for which you may receive compensation;
Transverse and Oblique Fracture- A transverse fracture is a complete break and proceeds fully across the bone at a straight, right angle. An oblique fracture is similar, except that the break proceeds diagonally through the bone.

Compound Fracture- With a compound fracture, the bone has been broken in multiple places. This type of fracture becomes even more complicated when it happens in the area of a joint. The joint could consequently become destabilized. To stabilize the fracture, pins, plates, or both may need to be used.

Spiral Fracture- Also known as a torsion fracture, a break of this sort occurs when the limb has been twisted, much like a wet rag might be twisted, and as a result, it is broken. A spiral fracture could easily happen to a child on a bicycle or a person in a motorcycle accident when a leg or arm of the individual is twisted as the rider falls.

Compression Fracture- This sort of break is common in a car accident. With this type of fracture, the bone has been compressed and crushed.  Often in a car accident, individuals instinctively extend their arms out in front of them in an attempt to protect their body and stop it from projecting forward. However, the inertia from the accident may be so powerful that bones are not only broken but also compressed and crushed. 
Treatments will vary based on the type of fracture and severity of the injury. This is especially true when we include whether the break happened around a joint or whether multiple breaks happened in different areas of the body. At times, a cast or a brace might be enough to create stabilization. In cases where the joint is compromised and destabilized, pins or external fixations might be necessary. It is also possible that the bone could penetrate through the skin during the break. Intense antibiotic treatment could be essential to ensure that no infections occur. 
All of these possibilities equate to added pain, cost, lost time and trouble. 
That is where we come in. 
How Much Compensation Are You Entitled to for Your Broken Bone Injury?
The amount of money you are eligible to receive as compensation may depend significantly on several factors. Here are a few for you to consider:
The severity of your break
The duration and intensity of rehabilitation you will need to recover fully
The effect your broken bone has had on your mobility
The location where your fracture occurred
The extent of negligence on the part of the liable party
Total lost wages including future lost wages
The cost of your medical treatment 
Trying to determine these elements as well as many others that will affect your case could be overwhelming and perplexing, especially when you are suffering the pain of a broken bone. Don't be taken advantage of in this difficult time. Make sure to get the legal counsel you need to obtain the fair compensation that you deserve.
Fielding Law Can Help You
It is an interesting enigma that although our bones have no pain receptors, the experience of breaking them can be surpassingly excruciating. Let the lawyers at Fielding Law help you. We will work on your behalf to reduce the distressing and difficult legal pain associated with your broken bone injury case.
At Fielding Law, we will analyze the type of injury you have suffered, scrutinize the setting and conditions of your accident, study your medical bills, paperwork related to missed work, the cost of rehabilitation, as well as estimate any future medical costs and wages lost. Then, with all of these details of your case compiled, we can place a value on your case. We will pursue the best recovery available to you. It is our goal that you recover to the fullest extent possible, both physically, and financially. Call us today for a free consultation.