6 Tips to Safely Drive Around Motorcycles
Posted January 13, 2019 | Uncategorized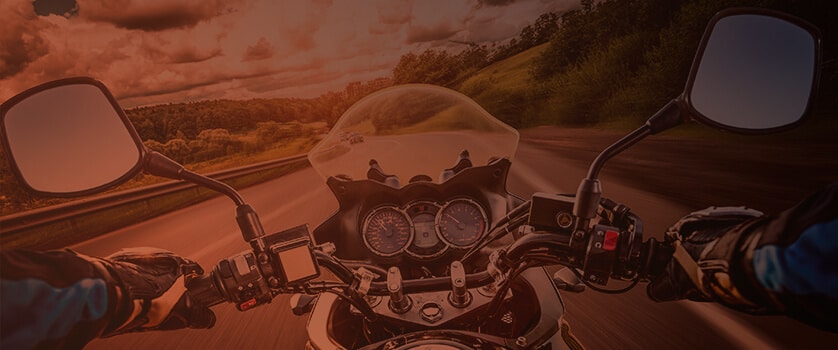 Motorcycle season may seem like a long from now, but it will not be long before the snow clears and riders are out once again. With sporadic warm spells in the middle, it is not uncommon to see motorcycles on the road even in the winter months. Now is the time to remind ourselves about the importance of sharing the road and being mindful of motorcycle riders.
Unfortunately, many motorists do not exercise appropriate caution around motorcyclists, simply because they are not as attuned to their presence on the road. By following some simple safety tips, we can make the roads safer for motorcycles year round.
Be Mindful of Your Blind Spots
The more experienced we become at driving, the more complacent we can be. Things that we used to do automatically, like checking our blind spots, can fall by the wayside. However, failing to check a blind spot could be deadly to a motorcyclist. Since motorcycles are so much smaller, they can fit entirely into your vehicles blind spot, which makes them more difficult to see when switching lanes or making a turn. Do not just rely on mirrors to navigate; check your blind spot every time.
Slow Down
If you are traveling behind a motorcycle, slow down to give them a safer following distance. Motorcycles do not navigate the roads in the same way that cars do; they must be mindful of things like potholes and road debris. Since they are more sensitive to the road's topography, they can also lose control more easily. Giving them a wider berth could save a life.
Avoiding tailgating can also help prevent accidents that you would likely be at fault for. Allowing yourself enough space can give you enough time to react if a motorcyclist makes a sudden movement, and it can help you avoid liability in a motorcycle accident.
Communicate Your Intent
It always helps others on the road to use your turn signals and use other tools that communicate your intent on the roadway. This also includes making sure your brake lights and other signaling devices are working properly. Others on the road should be able to anticipate your moves so they can move around you safely.
Pay Attention to Your Headlights
When driving at night, only use your high beams when no one else is out on the road. High beams are rarely necessary when driving in the city, and they could be blinding to a passing motorcyclist. Only use your low beams and dim your high beams when you do use them to accommodate any passing vehicles.
Be Mindful About Turns
Left turns present a unique threat to passing motorcyclists. Many motorists fail to appropriately judge the distance of a motorcyclist coming from the opposite direction, which can have deadly consequences. When in doubt, wait for a motorcyclist to pass before making your turn. When making a turn within a lane (e.g., moving to the left on the highway), be particularly mindful of your blind spot.
Never Drink and Drive
Many motorcyclists lose their lives to the actions of impaired drivers. Drinking and driving makes the road even more dangerous. Utah recently passed a law that lowered the legal limit to 0.05, the first state in the nation to do so. As such, you should think twice about driving even after a drink or two. Arrange for alternative transportation if you plan to drink. The consequences are too great.
Motorcycles are in a vulnerable position on Utah's roadways. By observing some simple precautions, you can help enhance the safety of everyone traveling throughout the Salt Lake City area. Though it might not seem like peak motorcycle season, it is important to be mindful of them all year long. If you were injured in a motorcycle accident and have questions regarding whether you have a claim, contact a motorcycle accident attorney today.